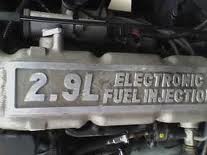 The original Bronco and edition II motors are both offered in the company inventory.
Lansing, Michigan (PRWEB) June 14, 2013
The introduction of the Ford Bronco and Bronco II series SUVs by Ford in the 1980s provided the engine variance not found from other automakers. The RemanufacturedEnginesforSale.com company is now providing rebuilt Ford Bronco II engine inventory in multiple displacements. Engine installers or vehicle owners now choose between 2.8 or 2.9 displacement motors at http://remanufacturedenginesforsale.com/ford/rebuilt-ford-bronco-engine. These engines are refurbished by company mechanics and now provided as an alternate upgrade compared with a used engine. The original Bronco and edition II motors are both offered in the company inventory.
The Ford Motor Company has produced different engine families for six-cylinder engines in the past three decades in the U.S. The 2.8 and 2.9 editions provided much of the same technology that was later used in the 3.0 V6 editions produced in later years. The refurbished units now available for sale have been created using the latest advancements in reconditioning technology.
These OEM rebuilds are now expected to offer SUV owners or other engine installers the quality that can be difficult to find through some secondary sources. These V6 variants are part of a six-cylinder expansion of motors from multiple automakers included for online sale this year.
Component failure is one issue that any reconditioned engine could have after customer installation. OEM auto parts and licensed replacements are usually offered was a limited warranty upon application. Manufacturing defects or wear and tear could lead to a breakdown with no prior warning to a vehicle owner. The RemanufacturedEnginesforSale.com company is helping to eliminate the fear of parts failures with its recently redesigned warranty policies.
Each engine undergoing rebuilding work inside of the company facility now receives 36 months of protection. These policies include the parts that are applied and labor from a mechanic during the actual build. The attachment of these helpful policies is provided with each motor for no increase in the current sale prices.
Engine pricing is monitored by this company on a daily basis to bring the best pricing currently possible in the secondary market to buyers. Company research has helped to construct an intelligent price quotation system installed for consumer use online. The application of this system on the company website now offers one route of price discovery.
Because this form requires no assistance to use, consumers concerned with sale pricing can instantly receive prices for any motors stocked by this company. Company staff continues to generate pricing through the toll-free number used for customer service as an alternate option to produce recycled engine pricing.
About RemanufacturedEnginesforSale.com
The RemanufacturedEnginesforSale.com company rebuilds automobile engines from domestic and some import automakers. Selling motors to the trade industry helped this company to develop its reputation as an expert reconditioning company. The consistent investments into equipment and technology help to keep engine quality produced by this company at higher levels. Engine warranties and buyer incentives are offered with each purchase. The RemanufacturedEnginesforSale.com company constructed its website to be used as resource to find essential engine data and prices that are below the standard edition retail prices often found online.