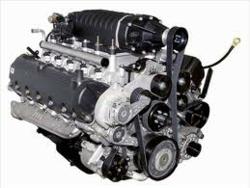 Because OEM parts can fail after application, the testing measures now used are expected to reveal problems before a failure happens.
Cleveland, OH (PRWEB) May 31, 2013
Ford Motor Company has relied upon its F-Series pickups to dominate the medium-duty truck industry for more than three decades. Part of the confidence built with this series comes from the engine development. Finding a quality engine for replacement is now expected to be better for truck owners at the RebuiltEngines.co company. This company is now dyno testing its rebuilt Ford Lightning engine inventory. These motors now go through this essential testing to ensure each build produces a comparable to like new engine. The inventory and additional details about the 5.4 V8 engine series now tested can be found at http://www.rebuiltengines.co/ford-engines/ford-xlt-54l-rebuilt-engines.
Refurbished engines are one of the ways that some companies are using to provide increased value in a replacement engine. The technologies that are now used to provide recycled motors to the public have been upgraded and enhanced since the introduction of this method in the early 1970s.
The Rebuilt Engines Co. is one of the largest suppliers for reconditioned motors in North America and has sold its Ford builds for decades. The addition of the 5.4 Triton engine series is expected to expand the amount of distribution made this year. The dynamometer testing procedures that are now applied to this motor series is one measure undertaken this year to boost rebuild quality.
The upgrades in the testing procedures are part of a quality control system now put in place for buyers. Because OEM parts can fail after application, the testing measures now used are expected to reveal problems before a failure happens. One way that the RebuiltEngines.co company is using to assure buyers upon engine delivery of installation quality is by offering new warranties.
This company is one of the first in the industry to extend the amount of parts warranty protection for a 36-month period. This new extension is scheduled to provide the added assurance that is helpful after installation is complete for buyers or mechanics replacing motors in vehicles.
The addition of the 5.4 engine series is expected to reach more Ford engine buyers online this year. This addition to the refurbished inventory is now in line with a GM inventory upgrade that took place earlier in the year. The range of GM motors for trucks and SUVs is now placed by the Ford editions in the company V8 inventory.
The news announcement online at http://www.prweb.com/releases/rebuilt-gm-engines/01/prweb10357972.htm was used to inform engine buyers of the new types of motors now for sale online. These rebuilt units are now helping to provide the majority of replacement engines that are purchased by mechanics and owners of vehicles in North America.
About RebuiltEngines.co
The RebuiltEngines.co company now supplies its refurbished engine inventory to all 50 states in the U.S. The discounted pricing that is put in place for buyers to benefit is maintained by this company due to its strengths with suppliers. The low mileage blocks that are obtained for every rebuild helps to boost the quality that is found in each unit after installation. The RebuiltEngines.co company processes each quote received from its website immediately upon submission to help speed up the order process. Along with warranty coverage, this company expedites its engine shipments in North America.