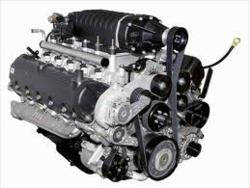 The period between 1997 and 2005 gave way to the use of the 5.4 V8 engine in the Ford F Series and other larger vehicles.
Louisville, Kentucky (PRWEB) April 20, 2013
Ford motors are produced each year in engineering facilities around the world for placement into company vehicles. The period between 1997 and 2005 gave way to the use of the 5.4 V8 engine in the Ford F Series and other larger vehicles. Due to the demand for motor replacements, the RemanufacturedEnginesforSale.com company is now offering rebuilt Ford Triton engines online. These 5.4 displacements are OEM builds and ready for immediate shipment at http://remanufacturedenginesforsale.com/ford/rebuilt-ford-triton-engines.
The larger pickup trucks and vans produced by the Ford Motor Company have relied upon V8 engines for more than 25 years. The various engine types that have been used to gain consumer confidence can be difficult for some buyers to locate through secondary market sellers.
The absence of reconditioned motors for preowned vehicles is one reason for the new rebuilt Ford editions online. These genuine builds are helping to fill the gap in the replacement engines industry.
The RemanufacturedEnginesforSale.com company has recently built a sophisticated online price delivery system for its rebuilt engines. This system now holds the complete company inventory for sale. Simple information is the only requirement for potential buyers to receive an actual price quote including shipping before sales are made. These quotes are reviewed for accuracy by company specialists prior to distribution to eliminate problems or errors.
A same day policy for shipments was recently added by company management. These faster methods of customer shipments are helping more buyers meet deadlines and other arrangements when motors are purchased. The special handling and insurance that is provided through these extra measures are helping to reassure engine buyers before and after shipment. These policies are expected to remain in place indefinitely.
About RemanufacturedEnginesforSale.com
The RemanufacturedEnginesforSale.com company rebuilds import and domestic motors for affordable pricing. The investments into engineering and equipment by this company have directly affected the output quality. This company has built its large customer network through decades of selling to offline companies and has now opened up sales online to the public. The RemanufacturedEnginesforSale.com company now attaches generous warranty protection with the sale of each motor to extend the OEM warranty. The company quote system, toll-free telephone number and direct online contact are additional ways this company provides expert services.