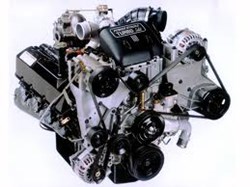 RemanufacturedEnginesforSale.com is now shipping out these famed diesel engines the same day that customers order.
(PRWEB) September 11, 2012
Remanufactured Ford Powerstroke engines are one way that used Ford vehicle owners are finding a replacement engine. These rebuilt engines offer the power and performance of a new engine without the traditionally high dealer cost. RemanufacturedEnginesforSale.com is now shipping out these famed diesel engines the same day that customers order. This shipping change is in response to the increased customer demand for these high performance diesel engines. The Powerstroke diesels can be shipped to both residential and business addresses in the U.S. and Canada. More information about the in stock Ford diesel engines and online price quotes can be obtained from this link http://www.remanufacturedenginesforsale.com/ford/ford-73l-powerstroke-engine-sale.
Ford Motor Company created its Powerstroke 7.3L diesel engine in the early 1990s to compete with Chevrolet and Dodge. This diesel engine is often installed in the larger F250, F350 and medium-duty pickup trucks that Ford produces. One of the aspects of the Powerstroke that make it so popular is the high torque and compression ratios. The fuel economy of this engine has made it in demand with pickup truck owners as a dependable diesel engine. The market for pickup trucks might be overcrowded although Ford has emerged victorious in many respects with the Powerstroke diesel series. These engines are rebuilt by RemanufacturedEnginesforSale.com on a daily basis to meet the demand by pickup truck owners.
Sales of diesel trucks by Ford, Chevrolet and Dodge have grown substantially in the past 20 years. The tradeoff of higher fuel economy and longer lasting engine life is one that many pickup truck owners have made. The majority of local delivery companies, contractors and long haul delivery companies rely on diesel truck engines to keep business operations moving smoothly. The rebuilt engines industry has taken note of the increases in usage and some dealers have started to train mechanics through top diesel engine rebuilding programs to help keep up with the demand for quality engines.
The large size of a diesel engine is one concern for buyers that plan to purchase a remanufactured engine online. A diesel can weigh as much as two times more compared with a standard gasoline engine. Because of this difference in size, some engine retailers do not sell diesel engines online due to the high costs that are involved in shipping these engines in the U.S. or Canada.
A new pricing effort is now in place at the Remanufactured Engines for Sale website to help business owners and individuals to save more money buying diesel engines. Along with the new same day shipments, reduced shipping contracts have been acquired through negotiations with freight companies to reduce diesel engine freight costs.
About Remanufactured Engines for Sale
Instead of selling used engines from an auction based website, Remanufactured Engines for Sale launched its own web presence in 2009 and business has grown annually since. As one of the first remanufactured engine rebuilders to sell online, this national company is the white label supplier of engines to the commercial industry as well as to average vehicle owners. By making arrangements with automotive wholesalers, Remanufactured Engines for Sale is able to reduce the price of used engines that are brought into the company engine shop to rebuild. This effort has drastically reduced the cost of gasoline and diesel engines that are sold from the Remanufactured Engines for Sale website.