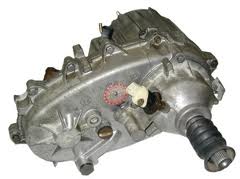 This rebuilt transfer cases dealer has increased the size of its inventory in 2012.
San Francisco, CA (PRWEB) December 07, 2012
TransferCasesforSale.com company has announced new pricing for its domestic case assemblies. This new price decrease is designed to lower the Ford, Chevrolet, Dodge and Jeep inventory for rebuilt and used units. This rebuilt transfer cases dealer has increased the size of its inventory in 2012 and is now offering these price breaks for 4x4 assembly buyers. More information can be found by visiting http://www.transfercasesforsale.com.
The creation of the 4x4 in the 1940s helped to provide options for pickup truck buyers in later decades. The integration of this all-wheel system to the U.S. auto industry has resulted in more domestic automakers using this technology.
Ford, General Motors and Chrystler all build vehicles that make use of 4WD. Since a transfer case is what regulates the gearing, the TransferCasesforSale.com company now offers a complete line of units for sale online.
Fluid leaks can be one of the reasons that a case assembly fails in a vehicle. The lubrication that this specially formulated fluid provides is essential to turn the gears and delicate parts inside a case assembly. Dried or leaking fluid is one of the reasons that buyers need to make a replacement. While regular maintenance on a 4WD system is often recommended, not all vehicle owners have the all-wheel drive system serviced annually.
The used and rebuilt assemblies that are now sold online provide vehicle owners and body shops with adequate replacements. One way that the Transfer Cases for Sale company has helped to redefine the quality process is by upgrading its testing procedures. Better manual testing has been added to the procedures that are now in place. This measure is part of a new quality control integration for buyers of used parts.
A recent news story about the new testing procedures can be found at this link http://www.prweb.com/releases/rebuilt-transfer-cases-/now-spin-tested-for-sale/prweb10146998.htm. The new spin tests described in this earlier new story have provided the basis of the new testing procedures that are used for all units in stock prior to shipment. This quality control level is one alternative for customers that do not buy from auction websites.
The new lower prices that are in effect can now be combined with an offer that has been in place since the summer. A free shipping incentive for buyers that purchase online from any of the 48 continental states is another way that is now offered to provide an alternative. This shipping policy is for regular delivery and the time frame came vary depending on the part of the country where a shipment is delivered.
About Transfer Cases for Sale
The Transfer Cases for Sale company first launched online in 2009 to provide quality drive train assemblies to the public. Through years of development, this company has now entered into every continental U.S. state thanks in part to the Internet. With low prices and higher quality, the Transfer Cases for Sale company has expanded its annual earnings. Selling to vehicle owners and to those that own or operate automotive companies has helped provide additional sales online and offline. A complete line of foreign and domestic units are now sold daily.