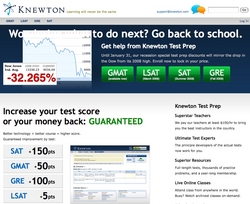 Most of the money spent on traditional test prep pays for administrative staff and real estate. As a web-based company, we spend that money on exceptional teachers and technology, and on giving our students more class hours and personal attention
New York, NY (Vocus) January 5, 2009
Downsize, rightsize, doing more with less--whatever you call it, the financial crisis caused over 3.1 million people to lose jobs in 2008. Countless others are working harder to stay afloat, or bypassing the job market altogether by going directly from college to graduate school. Test prep upstart Knewton, Inc. is empowering people whose New Year's resolutions revolve around tackling the recession in addition to their waistlines.
For those wondering how to afford a top-notch GMAT, LSAT, or GRE prep course--or their child's SAT course--Knewton has the answer: An enormous discount mirroring the drop in the Dow Jones Industrial Average since Jan. 1, 2008 (32.27 percent as of today). The more the market goes down, the bigger the discount. A stock ticker at knewton.com updates prices in real time.
Knewton's eLearning technology is even more innovative than its pricing, merging an adaptive learning engine with live, online video classes. The classes are archived for those who miss live sessions. The system adapts to each student based on his or her concept-by-concept ability level and optimal learning style. Knewton was one of seven national finalists selected from over 1,000 entrants in the 2008 Amazon.com Start-Up Challenge.
Some of the nation's top test industry veterans are on Knewton's team, including CEO Jose Ferreira (a former Kaplan Test Prep executive), and Len Swanson and Rob McKinley--the testing gurus who developed the GMAT, LSAT, and GRE. Now these legendary test-makers are helping Knewton's test-takers.
"Most of the money spent on traditional test prep pays for administrative staff and real estate. As a web-based company, we spend that money on exceptional teachers and technology, and on giving our students more class hours and personal attention," said Ferreira.
Knewton also offers an industry-best, money-back guarantee of a 50-point improvement on GMAT scores, 5 on the LSAT, 100 on the GRE, and 150 on the SAT. The Dow-tied discount is good until Jan. 31, 2009. Students must sign up by then to lock in the savings.
"Knewton's adaptive-learning engine is the most innovative educational technology I've ever seen," said Greg Rorke, former CEO of Kaplan, Inc. "They are going to revolutionize not just the test-prep industry but possibly the entire practice of education."
###