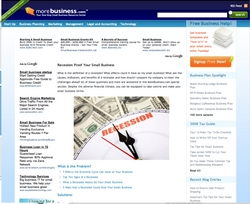 Recessions are a natural part of the economic cycle
Rockville, MD (PRWEB) June 16, 2008
Popular small business portal MoreBusiness.com is helping entrepreneurs navigate through the recession. A new small business recession section shows them how, and is available at: http://www.morebusiness.com/recession-small-business-08.
Learn answers to such questions as:

What is the definition of a recession?
What effects could it have on small businesses?
What are the causes, indicators, and benefits of a recession?
How should small business owners prepare their company to meet the challenges ahead?
The increasing gas prices, subprime meltdown, and rising inflation all influence consumer spending in many industries. Despite the adverse economic environment, business owners who equip themselves with the right tools and strategies will not only survive but thrive. MoreBusiness.com's Recession-Proof Your Business section provides timely information with actionable plans that are relevant for any industry.
Divided into "Problem" and "Solutions," the section offers visitors tips on prevention ideas to avoid a financial crisis, control costs, develop powerful sales strategies and more.
"Recessions are a natural part of the economic cycle," explains CEO Raj Khera. "Although no one business owner can control what happens around him, he can take control of how his company responds and adjusts to the situation. We hope entrepreneurs around the world will find the information to be insightful and empowering to help them achieve success during these times of economic uncertainty."
About MoreBusiness.com:
MoreBusiness.com is an award-winning web site filled with sample business plans, marketing plans, templates, sample contracts and business agreements to help entrepreneurs start and grow a small business. MoreBusiness.com is part of a series of sites run by Khera Communications Inc., which includes email marketing service, MailerMailer, and discussion group management tool, DiscussThis.
###