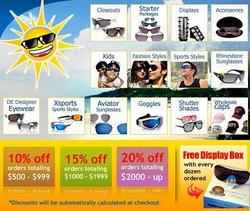 Similarly people running community shops can add another merchandise to their wares and offer the sunglasses to their regular buyers. This requires no extra marketing effort and can add some good profit to their bottomline in these tough times
Salem, OR (PRWEB) April 16, 2009
The effect of recession is showing everywhere and it has gripped the sunglass market too. People are buying the replica sunglasses in larger numbers as compared to the leading brands because of the vastly lower prices.
Replica sunglasses are the low-budget, look-alike sunglasses for the budget conscious people who would love to wear the leading-brand sunglasses but cannot afford the fancy price-tags. Kirk Bachelder, owner of Wholesale Discount Sunglasses web site reported that the sales of the discount sunglasses have been steadily going up as folks can buy more goggles for a low price.
Kirk thinks this is a great opportunity for people who want to earn an extra buck. "They can buy an assortment of sunglasses for a small amount and sell these in retail at the flea markets or other high traffic area for a nice profit", he reported. "Similarly people running community shops can add another merchandise to their wares and offer the sunglasses to their regular buyers. This requires no extra marketing effort and can add some good profit to their bottomline in these tough times", he added.
The online store carries a wide range of fashion sunglasses inspired by leading-brands and there are designs for men, women as well as children. It also carries several types of accessories like sunglass display stands, which make running the sunglass business easier for the entrepreneur.
CTS Sunglasses, the owner of the store is direct importer of the replica sunglasses into USA and therefore, they can offer maximum discount to the buyers looking for a bargain. The company has become very popular among the bulk sunglass buyers because of their service and delivery standards.
About CTS Wholesale, LLC.
CTS Wholesale, LLC. is a wholesale sunglass company dealing in designer eyewear, for immediate purchase and same day dispatch, at their online store at http://www.WholesaleDiscountSunglasses.com. Attractive discounts are available with quantity purchases, while the newly introduced case packs offer super cheap prices. They pride themselves in offering the best customer service for online sunglass sites.
Contact Information:
CTS Wholesale Inc.
3525 Brady Ct. N.E.
Salem, OR 97303
Phone: (503)-488-5458
Fax: 503.589.4121
# # #