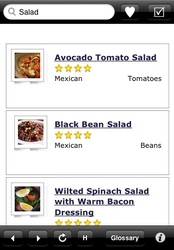 Since cooking, daily meal planning, grocery shopping and mobility are a natural fit, we knew the application would be popular, but it's astonishing just how popular the BigOven app has become -- nearly every day for its first three months of availability, BigOven was one of the Top 50 Most Popular Apps in the iTunes Store
Seattle, Washington (PRWEB) December 10, 2008
BigOven.com, an innovative social network about food, announced that its free iPhone® App, BigOven 160,000+ Recipes, was downloaded over one million times in its first three months of availability.
"Since cooking, daily meal planning, grocery shopping and mobility are a natural fit, we knew the application would be popular, but it's astonishing just how popular the BigOven app has become -- nearly every day for its first three months of availability, BigOven was one of the Top 50 Most Popular Apps in the iTunes Store", said Steve Murch, founder and CEO of BigOven.com. Apple Inc. also recently named the BigOven App one of the Top 100 Most Popular Downloads for all of 2008, particularly notable given that the app wasn't released until the final quarter of the year.
The iPhone App lets anyone search a gigantic recipe archive from anywhere -- the grocery store, kitchen, or while traveling. It has rapidly become the most popular cooking-related app on the iTunes store, as measured by downloads. To install the free app, simply visit the iTunes App store and search on "BigOven".
2008 also saw BigOven.com's website traffic rocket ahead dramatically, surpassing 3 million unique visitors in November 2008, according to Google Analytics. In the 24 hours before Thanksgiving, there were over one million pageviews. BigOven.com now counts over a quarter million member cooks from around the world, and is adding thousands of new members every single day.
About BigOven.com:
With innovative features like create-your-own cooking shows, a personal "Try Soon Queue", the BigOven Leftover Wizard and Chef Medals, BigOven is a great place to go to find virtually any recipe, and share your own family favorites with the world. BigOven's unique Leftover Wizard ("Leftover Wizard") lets any cook enter up to 3 ingredients from their fridge to easily use up what's on hand.
Also unique to BigOven is an optional, award-winning desktop recipe organizer for Windows which seamlessly integrates with the website. BigOven for Windows was just named Best Recipe Software for 2009 by TopTenReviews.com in a head-to-head matchup of 10 recipe titles, on top of Best Recipe Software 2008 by the same review firm. With BigOven for Windows™, cooks can instantly import any recipe from the archive with a click of the mouse, then drag and drop it onto a shopping list (complete with resizing), to generate a grocery list sorted by aisle. Meal plans can also be created with similar drag-and-drop ease, and a grocery list can then be created for any date range.
About Lakefront Software, Inc.
Lakefront Software Inc., makers of BigOven (http://www.bigoven.com), is focused building the leading social network for home and professional cooks. Headquartered in Seattle, Washington and founded by a former Microsoft and Expedia.com executive, it's profitable, and focused on delivering great consumer software and services.
###