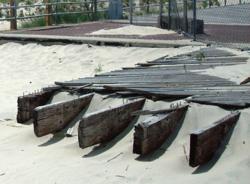 Tod and Billie are really happy with the floor.
Philadelphia, Pennsylvania (PRWEB) May 02, 2012
When the Barnes Foundation opens its doors to their new building on May 19, 2012, Dr. Albert Barnes' renowned art collection will not be the only thing to find its new home in Philadelphia. Portions of a Long Island boardwalk, carefully salvaged and reprocessed by Provenance Architecturals, garners a second life as flooring in the highly anticipated building designed by Tod Williams Billie Tsien Architects.
The Barnes Foundation's Philadelphia campus is aiming for LEED platinum certification; the highest level available by U.S Green Building Council. With this in mind, Tod Williams Billie Tsien Architects, who places an emphasis on environmentally-sound building practices, set about pinpointing a responsibly-harvested source for their wood flooring needs.
The search led them to Provenance Architecturals, a Philadelphia-based architectural salvage company who specializes in the identification, reclamation, and reprocessing of reclaimed building elements throughout the East Coast region. The company strives to save historically significant and high quality materials with an emphasis on matching these materials to the needs of current building projects. When the Barnes Foundation project was getting started, Provenance had recently procured approximately 40,000 board feet of a Long Island ipe boardwalk, previously slated for demolition. Ipe, a hardwood grown in the South American rainforest regions, is known for its superior durability and rich color profile; two characteristics that Williams and Tsien's specifications called for.
Provenance Architecturals transported the 4" thick and 12" wide boards of ipe to their processing facility, and in collaboration with Pennsylvania Flooring, set about meeting the stringent milling requirements necessary for the specified herringbone pattern. Meticulously installed and finished by Pennsylvania Flooring, the 5,800 square feet of reclaimed ipe sits within a perimeter of stone in the museum's centrally-located Court and continues outside onto the terrace. Phillip Ryan, senior associate at Tod Williams Billie Tsien Architects and Barnes project manager, reports, "Tod and Billie are really happy with the floor."
To see step-by-step images and learn more about how the boardwalk became flooring, visit the Barnes Foundation Project on Provenance's website.
About Provenance Architecturals:
Provenance's mission is to be the vital link between what a material once was and what it can become. We have extensive experience in deconstructing architectural materials and unlocking their value by processing them for reuse. Our team provides this knowledge to our clients and supports them in their aim to reuse whether they want to retain the character and history of the material or incorporate them seamlessly into a new and modern space. To learn more about our deconstruction services, reclaimed materials processing, and design/build projects or to visit our 17,000+ square foot retail/design center, please visit http://www.phillyprovenance.com.