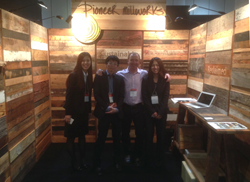 Our partners in Japan join us in rescuing these storied timbers and boards and giving them new life in creative spaces
Portland, OR (PRWEB) February 28, 2015
Pioneer Millworks reclaimed USA wood will be on display at the 2015 Japan Architecture & Construction Materials Show, an annual, premier sustainable building event in Tokyo, Japan. They'll join more than 1,000 suppliers and top manufacturers of the latest building products, services and technology.
Reclaimed wood products sourced and manufactured by Pioneer Millworks from their Oregon and New York facilities have found popularity in Japan at restaurants, hotels, retailers, and corporate offices. Nichibi Global, headed by William Beleck, coordinates for Pioneer Millworks with three Japanese distributors, each stocking and offering Pioneer's reclaimed flooring and paneling to their customers. Representatives from Ikegami & Co., Chubu Maintenance, and Kozaibiyori will be available for meetings, local project walk-throughs, and conversation at the show. "Our team is looking forward to sharing our excitement for these unique woods with clients, new and known. Our partners in Japan join us in rescuing these storied timbers and boards and giving them new life in creative spaces," said Jennifer Young, General Manager of Pioneer Millworks.
This year the Japan Architecture & Construction Materials Show will take place at the Tokyo International Exhibition Center in Tokyo, March 3 – 6. Pioneer Millworks will be displaying a variety of responsibly sourced and manufactured reclaimed wood species. To further demonstrate Pioneer's commitment to the Japanese market, the company launched a Japanese website and facebook page.
"Like the US market, salvaged wood such as antique barn siding and industrial planks are popular products in the Japanese market. Our exhibit shows the widest range of species available along with inspired design ideas," explains Young. "We're excited to share our 25 years of knowledge and experience with Japan's finest architects and designers."
Pioneer Millworks is the leader in the reclaimed wood industry. To date, they've rescued 24 million board feet of old wood, giving it new life as paneling, flooring, millwork, and more. All manufactured in a way that's healthy for customers, employees, and the environment. Pioneer Millworks is FSC certified, Green America approved, and a member of the USGBC. All products are LEED point eligible.