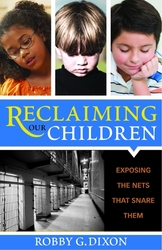 My first-hand research dissects societal reasons for this rampant distressed conduct and the certain path to imprisonment if left unrecognized
Dallas, TX (PRWEB) March 26, 2009
Theft, armed robbery, gang warfare and school shootings continue to permeate our society, and young people are paying the price with incarceration. With a timely message focusing on today's most critical topics, author Robby G. Dixon takes the literary world by storm and with shock value in his first book -- Reclaiming Our Children: Exposing the Nets That Snare Them. He gives a universal call for an immediate 'transformation of our nation's consciousness' to restore understanding of our youth before it's too late.
Asking crucial questions, Reclaiming Our Children reveals the socio-psychological-spiritual dynamics, which expose, influence and consequently guide our youth to deviant behavior. "My first-hand research dissects societal reasons for this rampant distressed conduct and the certain path to imprisonment if left unrecognized," says Dixon.
Texas author Robby Dixon has spent half a lifetime writing and essentially living his book to help curtail the tangible cause of this effect; the growing epidemic of senseless criminal conduct and physical incarceration. Citing extensive research based on counseling families and prison inmates, Dixon gives startling evidence that prison serves as a 'sinister profit-generator', which conditions inmates into revolving doors, returning them to prisons over and over. "I have personally witnessed those who have left prison and have returned, astonishingly, some within as little as two weeks' time. My research has revealed that some leave and then return two, three and four times, all within the same year," says Dixon. As an activist for the well being of children and young adults using a Judeo-Christian perspective, his educational blogs appear on his Reader's Community Weblog.
Chapter 1 -- The Three Levels of Imprisonment
Author Robby Dixon describes a concept he calls a 'conscious' home environment as a valuable contributor to helping parents practice 'prison-preventing' parenthood. "Imprisonment really begins long before the iron doors slam behind a person. Incarceration's start is three-leveled -- spiritual, mental and physical. It virtually ensures that children with 'imprisoned' minds and spirits will eventually end up behind bars," he comments.
Reclaiming Our Children centers on time-tested, insightful 'prescriptions' to help parents and children avoid the traps that lead to crime. Dixon argues that not only is this behavior preventable, but through the power of God, positive images, perception and desire, even the recidivism rate can be decreased. "Study and hear, so that you are able to raise your children the right way. It exudes from God," Dixon stresses. "We often try to delete God from various aspects of our lives. Yet we always find that God, being God, is everything in one aspect and the essence of anything in the other aspect."
Dixon lectures and holds workshops at schools, churches, prisons, libraries and other organizations in Dallas and Houston, and throughout Northern California. In 2009, topics of Reclaiming Our Children will be used as the basis for curriculum for a high school age workshop at the Center for Pre-College Programs (CPCP) at Missouri University of Science & Technology. Contact: William Perkins, director of the Center for Pre-College Programs. See attached PDF in this press release.
Robby Dixon resides in Corinth, Texas with his wife and son, and welcomes public feedback about his teachings and book. To order your copy of Reclaiming Our Children (ISBN 978-0-9651834-2-0) go to Robby Dixon's Web site. The book also is available for purchase online and at bookstores in the United States and Canada, including Amazon.com.
If you would like more information about Reclaiming Our Children book events, workshops or wish to schedule an interview with author Robby G. Dixon, please contact Katherine M. Brungs of Lacewing Communications LLC via email at kathy (at) lacewingcom (dot) com.
###