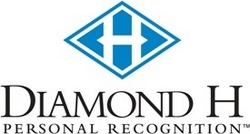 The addition of Theresa Harkins will enhance our current offerings on recognition training and analytics, which is just another way we are bringing enterprise-wide solutions to the market.
Fort Worth, Texas (PRWEB) December 15, 2009
Theresa Harkins, a recognized industry expert in employee recognition training and analytics is joining Diamond H Recognition, a leading provider of enterprise employee recognition solutions and service award programs. In her new role, Theresa will be serving as the newly appointed Director of Organizational Learning & Analytics. The creation of this position marks the expansion in Diamond H's solution set to include a more in-depth approach toward delivering enterprise recognition services to further drive employee engagement.
"At Diamond H we are focused around delivering end-to-end solutions to our clients. The addition of Theresa will enhance our current offerings on recognition training and analytics, which is just another way we are bringing enterprise-wide solutions to the market," stated Michael Cobb, Diamond H President.
Theresa brings a rich background and high level of expertise in the employee recognition field to Diamond H. She has specialized experience in developing and deploying enterprise recognition solutions for Fortune 1000 companies and will pull from this background in serving Diamond H's clients. "Theresa's skills and experience will be a valuable resource in helping our clients advance their knowledge and proficiency around recognition best practices in order to reach their business goals," stated Cobb.
As a visionary leader in the recognition industry for the past 10 years, Theresa spearheaded the development and execution of the Certified Recognition Professionals (CRP) certification program within Recognition Professionals International (RPI). The CRP program sets the standard for employee recognition learning. It is offered through RPI for practitioners interested in gaining a better understanding of employee recognition best practices, and is the only certification of its kind for the industry. Theresa led the development of the CRP certification process as well as the training and learning curriculum for this initiative.
For her work in this area she was awarded the inaugural Excellence in Education Award from RPI earlier this year. This new award will be given annually in Theresa's name to an industry figure that demonstrates a commitment and passion towards the area of recognition education.
"I am thrilled to have Theresa joining the Diamond H team. I have had the opportunity to work with her in a number of different capacities, and her thought leadership around recognition learning and training is unmatched," stated Kimberly Smithson-Abel, VP of Strategy and Business Development for Diamond H.
Prior to joining Diamond H, Theresa was Managing Director of HR Strategy, Technology and Analytics at Tesoro Companies, Inc. In this role she was responsible for defining the HR strategy, overseeing the implementation and maintenance of new HR technology, and developing metrics for reporting on all HR departments. She will draw upon her knowledge and expertise in this area of people analytics, while serving in her new position. In this capacity she will be helping Diamond H clients measure and track their efforts around recognition, thereby providing quantifiable metrics and ROI analysis for business leaders. "Measurement is a critical component to Diamond H's solution. Theresa will add an additional level of expertise in this area, helping clients further quantify and validate their investments in people," stated Smithson-Abel.
Theresa has also served as Director of HR Strategy and Recognition while at Tesoro. In this position, she was responsible for leading the development of corporate-wide reward and recognition programs. In this capacity, Theresa facilitated the development of strategic plans for the Human Resources department and partnered with Corporate Communications on the dissemination of communications strategies and key messages to the organization, linking HR to the organization's mission and objectives.
Prior to joining Tesoro, Theresa served as the Manager of Rewards and Recognition at Delta Air Lines, Inc. where she was charged with providing strategic planning, design and implementation of recognition programs that aligned with business goals for 60,000 employees worldwide. Her most notable accomplishments at Delta included the branding of its recognition strategy and programs as "The Delta Difference" and the launching of an enterprise-wide recognition and reward system. Despite a downturn in the economy, under Theresa's leadership Delta's recognition staff and budget increased by 200%.
As a result of her diligent efforts to promote employee recognition at Delta, she was awarded the Pamela Sabin Recognition Champion Award in 2005. This award is designed to recognize individuals who display leadership in spreading the message of recognition throughout their organization, as well as exhibiting passion in promoting the principles of recognition.
Theresa is a Certified Recognition Professional through RPI, a past president of RPI, and a Certified Compensation Professional through WorldatWork. She has a BS in Public Health Education from Indiana University and lives in Indianapolis with her daughter, McKenzie, and son, Paxton.
Theresa Harkins
tharkins (at) diamondh (dot) com
Director of Organizational Learning & Analytics
Diamond H Recognition
About Diamond H: Diamond H Recognition has served the recognition industry for over 100 years and is adept at anticipating and innovating solutions for companies that want to inspire and engage their workforce. Diamond H combines its industry experienced thought leaders and category-leading Inspirus Technology to deliver enterprise employee recognition solutions that produce results. The Fort Worth-based company currently has programs at work in more than 350 organizations and supports millions of "recognition touches" annually for companies around the world. http://www.diamondh.com
###