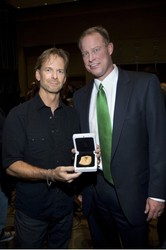 It's an honor to showcase our work and to be a part of this new generation of creativity in Grand Rapids
Grand Rapids, MI (PRWEB) October 13, 2009
Terryberry, a 91-year-old Grand Rapids-based international provider of custom recognition products, was selected to create a special medallion for this year's ArtPrize competition which was held in Grand Rapids, Mich., from Sept. 23, 2009 to Oct. 10, 2009. The medallion was presented on Oct. 8, 2009 along with the top prize of $250,000.
The maker of employee appreciation awards crafted the unique medallion from sterling silver and 24K gold. It weighed approximately eight ounces and featured a matte background that was accented with polished lettering and the ArtPrize logo.
"It's an honor to showcase our work and to be a part of this new generation of creativity in Grand Rapids," said Terryberry Managing Partner Mike Byam. "We join the hundreds of venues and corporate sponsors in our salute to the ingenuity and concept idea called ArtPrize, and we look forward to supporting the event for years to come."
The medallion was presented to artist Ran Ortner of Brooklyn, N.Y., who won the top spot with his 6 ft. x 19 ft. "Open Water no. 24" oil painting. ArtPrize is a radically open competition with 1,262 artists who have displayed their works at 159 venues within a 3-square-mile downtown district in Grand Rapids, Mich. The competition was open to any artist in the world who could find a venue to exhibit his/her work, with the winners decided by public vote. ArtPrize is the world's largest art competition with total prize money of $449,000.
About Terryberry:
Founded in1918, The Terryberry Company has built an international reputation for its customized recognition and award programs which feature the highest-quality employee recognition awards. Based in Grand Rapids, Mich., Terryberry develops and manages employee recognition programs for more than 25,000 organizations worldwide.
###