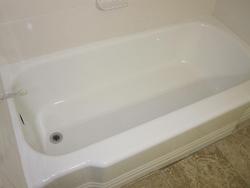 Homesellers can affordably update their old bathtubs and tile, without remodeling, and keep more of their money during these difficult times
Austin, TX (PRWEB) April 20, 2011
Austin bathtub refinishing company, All Surface Renew, provides professional Austin bathtub repair and refinishing services to residents of the Greater Austin area. Now, with the upcoming home improvement season, they will focus on making homeowners and contractors more aware of green Austin bathroom remodeling that allows old bathtubs and tile to be recolored and renewed with a special spray-application quickly. Homeowners, especially those planning on selling, can save considerable money over unnecessary bathroom remodeling and increase their homes' appeal for the competitive real estate market.
In the past, many homeowners have turned to conventional tear-out and replacement to change dated ceramic tile and bathtubs, but that has been changing steadily. Now, bathtubs and tiles that are green, pink, or even brown can be updated to more contemporary colors such as Porcelain White, Biscuit, or Almond and turn them into selling features.
The recoloring process, also known as refinishing or resurfacing, takes typically 2-5 hours and involves specially preparing the surface, making needed repairs, and then applying a new surface to the fixture with a fine-finish spray system. The process works for fiberglass, enamel, acrylic, porcelain, marble, cast iron, and ceramic.
Common issues that are routinely repaired by refinishing are bathtub rust, surface chips, cracks, and holes.
An alternative bathtub recoloring option that has been available to homeowners for some time has been the boxed do-it-yourself bathtub paint kits from home improvement stores at an approximate cost of $40. Unfortunately, the poor durability has not made them a lasting solution.
Operations Manager, Jose Olmedo says "The DIY Kits tend to fail because the strength of the store products are limited, and it's impossible to include all the necessary materials and equipment needed to do the job right. The result is something that needs to be redone. The good news is that we can repair peeling do-it-yourself bathtubs."
Homeowners are encouraged to have an assessment done to see if professional refinishing might be a good solution for them.
Will Olmedo, marketing director, says "It's tempting to want to save a little money by choosing a company that is offering cheap work compared to other reputable ones, but it can be risky. Simply doing a quick internet search for any company you consider working with should show their track record and if they are established. "
Jose Olmedo offers the following 5 tips on what to look for in a legitimate bathtub refinishing company:
1. Good standing and Accreditation by the local BBB (Better Business Bureau)
2. A Money-Back Guarantee on work performed
3. Recorded video testimonials from actual clients
4. A video library of various actual completed projects
5. Availability of a 5-Year transferable warranty in the event of home sale (for owner occupied homes)
All Surface Renew has served homeowners, Realtors, contractors, and home stagers in the Greater Austin area. Their unique process can be used to restore surfaces on Porcelain, fiberglass, cultured marble, laminate and even Formica® kitchen countertops. The results are long-lasting and beautiful.
All Surface Renew offers a 5-Year transferable guarantee against failure of adhesion. Refinished surfaces should last at least 10 years with the same care recommended by new tub manufacturers. To see videos and pictures of refinished fixtures and to learn more about how All Surface Renew's process can upgrade a bathroom or kitchen, visit http://www.AllSurfaceRenew.com or call 512-788-0027.
###