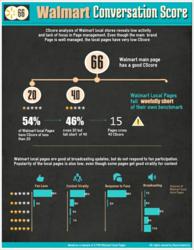 Walmart is replicating a traditional media strategy on its new Facebook channels — pushing a lot of content down these local channels while ignoring one-to-one engagement with fans.
Woodside, CA (PRWEB) September 20, 2012
Recommend.ly, the expert in social media metrics and management, has determined that Walmart's efforts to drive online customer engagement at its thousands of local stores across the United States are falling flat. Recommend.ly compared the effectiveness of thousands of Facebook Pages managed by independent small businesses with those managed by local Walmart stores, and found that Walmart's local Facebook Pages are faring poorly on key fan engagement metrics. The findings of the study are published online today on the Recommend.ly blog.
Commenting on the study, Venkata Ramana, CEO of Recommend.ly, said: "Last year, Walmart promised to bridge the 'gap between social and local' through its 3,500 local store Facebook Pages. However, the company is replicating a traditional media strategy on its new Facebook channels, and pushing a lot of content down these local channels while ignoring one-to-one engagement with fans. In comparison, Facebook Pages managed by many small businesses are doing much better with fan engagement and appear more focused on bridging that gap."
===Background===
In a widely publicized move, retail giant Walmart partnered with Facebook in October 2011 to create 3,500 Facebook Pages for its local stores across the United States. Through My Local Walmart, the Bentonville, Ark-based mega-chain aimed to drive its (then) more than 9 million Facebook fans to its local store Pages, and build brand loyalty with "enhanced local interaction at an unprecedented scale." At the time, Walmart's move was viewed by many pundits as sound marketing strategy with the potential to drive engagement with local customers. Now, almost one year later, research team at Recommend.ly decided to analyze the performance of Walmart's local fan engagement campaign.
To measure the campaign's success, Recommend.ly mined a sample of 2,799 Facebook Pages managed by Walmart stores around the United States. Using publicly available Page data for the period July – Aug 2012, each page was analyzed using Recommend.ly's new Page-scoring algorithm, "Conversation Score" (CScore), which calculated accurate data for key engagement metrics such as fan count, content sharing, content virality, page responsiveness, and overall Page popularity and effectiveness.
===Key findings===
1. The Facebook Pages of Walmart stores have not been popular with consumers.
■ Only 10 percent of Walmart fans on Facebook adapted to local store Pages. Most fans prefer to stay with Walmart's flagship Facebook Page.
■ Only 4 percent of the local Walmart Pages have more than 1,000 fans, whereas Recommend.ly's research shows that 22 percent of local businesses manage to accumulate more than 1,000 Facebook fans.
2. Walmart store Pages fare poorly on Conversation Score.
■ 99.5 percent of store Pages scored less than 40 out of 100 on CScore, and only 15 Pages out of 2,799 exceeded a CScore of 40. In stark contrast, 41 percent of local businesses tend to score above 40, and 13 percent exceed 60.
■ Meanwhile, Walmart's main Facebook Page scored a respectable CScore of 66.
3. Walmart store Pages do not engage with fans, unlike its main Facebook Page.
■ On its flagship Facebook Page, Walmart responded to fans on more than 22 percent of posts — a healthy number for a Page posting nearly 5 updates per day.
■ The store Pages, however, posted an average of only 1.24 updates per day, and 85 percent of store Pages never participated in the conversations on their Page.
===Recommendations===
1. For better impact, Walmart should further localize its content strategies. Stores with more control over content connect with fans better.
2. Local stores should be empowered to manage the content and fan engagement on their local Facebook Pages. Stores should also have access to social CRM systems to ensure they respond quickly to fans.
3. Performance of each Page should be quantified through scoring, and tracked closely. Pages should have minimum score targets and incentives should be offered to encourage performance on key metrics.
4. Increasing fan count on local Pages through sustained campaigns and store visibility should be a focus area. Enticing existing fans from the corporate Page to local Pages would be an excellent place to start.
About the Recommend.ly Conversation Score
Conversation Score (CScore) is a scoring widget that measures the effectiveness of Facebook Pages on a scale of 0 to 100. CScore gathers publicly available data on any given Page for the preceding 30 days and instantly generates the CScore and a shareable infographic showing various aspects of Page performance. CScore is free to use and requires no login. Introduced in August 2012, the widget has more than 17,600 users and has been well received by experts. Users can measure CScore of any page at http://cscore.recommend.ly.
ABOUT RECOMMEND.LY
Recommendly Inc. is an innovator of social media technologies founded in 2011. The company provides customized Facebook Page recommendations to social media community managers and small-business owners through its recommend.ly app. Recommendly is privately funded and has offices in the United States and India. More information can be found at http://recommend.ly/about