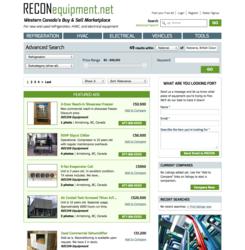 Great news—RECONequipment.net will be offering large companies the ability to offload their unwanted industrial and commercial refrigeration equipment.
Armstrong, BC (PRWEB) February 01, 2013
Question: Just how much dust does a 7.5 ton Packaged Roof Top Heat/Cool Unit collect when stored away in the corner of a warehouse? Answer: A lot less if it's listed on the RECONequipment.net!
Industrial refrigeration equipment is large, heavy, and expensive. Commercial refrigeration equipment—air conditioners, chillers, condensing units, you name it—are equally cumbersome and valuable. The problem in Western Canada is that the industry is separated by distance and awareness. Equipment stands locked away in warehouses or left to rot in outdoor yards. Meanwhile Mr. Contractor, in a city down the road, is looking for refrigeration equipment or lighter duty HVAC items for a job "that needs to be done yesterday" and wants to save a buck.
Owner of RECONequipment.net, Jim Schwarz, has been a contractor in the refrigeration industry for nearly 30 years. In his experiences, he realized that there should be an easier way for his clients and fellow contractors to buy and sell used commercial refrigeration equipment. The online commercial equipment marketplace launched early November 2012.
"For contractors, it's one-stop shopping," said Schwarz. "Now they can sell equipment they don't need anymore, and buy the parts or tools they do need from another contractor."
The newest development is great news for distributors and manufacturers. RECON will soon be rolling out a service for large companies to offload old models, reconditioned units, and equipment that have literally fallen off the truck. Instead of being destined to collect dust, these industrial and commercial refrigeration units can now collect profit.
Schwarz often caters to clients across BC—including Vancouver, Vernon, Kelowna, Penticton, Merritt, and Kamloops. Online, RECONequipment.net gives contractors, shop owners, and restaurateurs throughout British Columbia, Alberta, and Saskatchewan the chance to buy and sell a range of affordable quality equipment. Large companies will soon benefit too. Listing with RECON, they'll be able to create a new revenue stream from equipment long forgotten. That's a new best friend in anyone's books.
# # #
For more information, contact:
Cassandra Schwarz
RECONequipment.net
250-306-4492
info(at)reconequipment(dot)net
http://www.RECONequipment.net