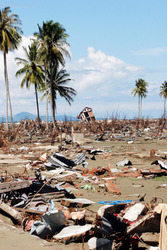 This toolkit is a crucial answer to a challenging question in the rush to recover from disasters – how can aid agencies work with devastated communities to build back safer than before and avoid the unintended consequences of disaster recovery...
Washington, DC (Vocus) November 19, 2010
An innovative training program and toolkit launched today by World Wildlife Fund and the American Red Cross will provide field staff in humanitarian aid organizations, governments and conservation agencies with the resources to help ensure that disaster recovery and reconstruction efforts not only protect communities from future disasters but also are environmentally sustainable.
When disasters strike, such as the 2004 Indian Ocean tsunami, they often require immediate as well as longer-term support from the humanitarian community. However, experience shows that the infusion of large amounts of resources to rebuild communities and help get people back to work, although well intentioned, can sometimes generate greater environmental degradation and actually increase community vulnerability to future disasters. The key is to design disaster recovery activities in order to reflect local environmental conditions.
Too often the long-term impacts of the disaster as well as the recovery and reconstruction are difficult to address. The Green Recovery and Reconstruction Training Toolkit for Humanitarian Aid gives a step-by-step guide for the task of rebuilding communities to be more environmentally and socially sustainable than what existed before the disaster.
The toolkit includes real world examples and is made up of 10 modules that cover project design, monitoring, and evaluation, construction site selection, water and sanitation, livelihoods and disaster risk reduction. Examples include:

lessons learned from the 2004 tsunami recovery efforts about the importance of protecting mangroves and coral reefs to reduce future risk of flooding;
how providing too many fishing boats to communities resulted in depleted fisheries, causing future food security issues;
the importance of selecting the right locations for sanitation projects to avoid polluting drinking water and to ensure long term water supplies
"This toolkit is a crucial answer to a challenging question in the rush to recover from disasters – how can aid agencies work with devastated communities to build back safer than before and avoid the unintended consequences of disaster recovery by maintaining and enhancing healthy ecosystems?" said Anita Van Breda, Director of Humanitarian Partnerships at World Wildlife Fund. "Our partnership with the American Red Cross has helped communities ensure that the fish they rely on for protein, the water sources that provide their drinking water and the timber that builds their new homes are provided in the most sustainable way possible."
The toolkit was created with participation from RedR, CARE, Oxfam, Save the Children, Mercy Corps, the International Federation of Red Cross and Red Crescent Societies, USAID, and the United Nations Environment Programme among others.
"Although disasters often wreak havoc on communities, the rebuilding effort that follows can provide an important opportunity to build back better," said Gerald Anderson, Senior Director of the Tsunami Recovery Program at the American Red Cross. "This toolkit can help make communities stronger and more resilient by making environmental issues an integral part of the recovery process."
Over the years this partnership has helped 2,000 families in Sri Lanka adopt environmentally friendly waste management practices, such as composting and organic home gardening. Composting helped clear the streets of garbage, which often blocked drainage systems when it rained and caused flooding.
In Thailand, children learned how to recycle through a school-based program in which students collected recyclables and deposited them in a "garbage bank" in exchange for gifts or small monetary rewards.
Local communities in tsunami-affected areas of Indonesia have also been organized and empowered to protect the Krueng Sabee watershed, which more than 20,000 people rely on for their drinking, cooking and washing needs. This community-based effort has protected the watershed by curbing illegal logging and gold mining, ensuring drinking water supplies and supporting livelihoods, such as fishing, that depend on natural resources.
For more information about American Red Cross and World Wildlife Fund visit http://www.redcross.org and http://www.worldwildlife.org.
About The American Red Cross
The American Red Cross shelters, feeds and provides emotional support to victims of disasters; supplies nearly half of the nation's blood; teaches lifesaving skills; provides international humanitarian aid; and supports military members and their families. The Red Cross is a charitable organization — not a government agency — and depends on volunteers and the generosity of the American public to perform its mission. For more information, please visit http://www.redcross.org or join our blog at http://blog.redcross.org.
About World Wildlife Fund
World Wildlife Fund is the largest conservation organization in the world. For 45 years, WWF has worked to save endangered species, protect endangered habitats, and address global threats such as deforestation, overfishing, and climate change. Known worldwide by its panda logo, WWF works in 100 countries on more than 2,000 conservation programs. WWF has 1.2 million members in the United States and nearly 5 million supporters worldwide. For more information on WWF, visit http://www.worldwildlife.org.
# # #