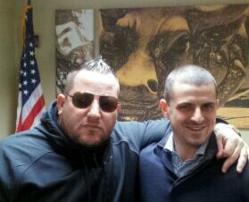 What makes this new small business term loan of $750,000 so exciting is its impressive 15-month term. It has opened the doors to contracts and business options that could not have been possible otherwise.
New York, NY (PRWEB) December 05, 2012
Yellowstone Capital (YSC) has teamed up with Mega Fund Direct LLC and GBR Funding (GBR) to complete a $750,000 small business term loan to Alfredo's Trucking & Backhoe Service. Initially they received an advance for $25,000 almost 2 years ago, and because of an established line of credit and payment history, this will be the eighth round of financing they have received with terms that have never been extended in the small business loan industry.
The New Mexico-based oil and gas-centered business could not obtain any type of funding before receiving the initial $25,000 advance from YSC. After receiving the primary and continued advances from YSC, MFD and GBR, they effectively expanded their business and went on to gain 100% more purchasing power, secure numerous contracts, and acquire the additional equipment needed to expand their business. This isn't the first time YSC and its affiliates have supplied such a small business term loan to Alredo's Trucking & Backhoe Service. In fact, a $751,000 advance was provided earlier this year.
"What makes this loan of $750,000 so exciting is its impressive 15-month term. It has opened the doors to contracts and business options that could not have been possible otherwise, "said Isaac Stern, Managing Partner at YSC.
James Puleo, one of the elite power brokers on Wall Street and CEO of MFD, stated, "This small business term loan is very special not only because of the terms, but the 3rd record deal in 8 months for Puleo. Puleo also went on to say, "Working with Tony Syracuse and the entire staff at GBR has been a wonderful experience and we are in talks to strengthen our alliance and will be doing very big projects in the near future."
The oil and gas industries are known for being unstable, especially for small to medium-sized businesses. But with small business term loan as large as $750,000 containing terms as long as 15 months from leading cash advance companies, such as YSC, GBR and MFD, these types of companies are able to remain in operation even with the rising cost of energy.
Puleo further stated, "We provide funding for all types of industries, big or small. We have noticed the increase of inquiries from Trucking and Alternative energy companies over the last year. These types of companies are picking up steam in the U.S. and promise to be the next largest oil producers in the world. Our goal has always been to be in the forefront in reviving the American economy. What better way than to fund a major trucking company that needs to employ hundreds of people for future major projects."
Puleo went on to give special thanks to Isaac D. Stern for providing the necessary building blocks to provide such a large funding at an unheard of term in the small business financing world. Puleo also thanked Tony Syracuse and Timothy Eaton (COO of MFD) the entire staff at GBR, and his colleagues at Mega Fund Direct LLC. These three companies see the big picture and have the vision to help build businesses one handshake at a time.
YSC, the leading merchant cash advance company in the industry, has set industry standards in providing creative financing solutions for small to mid-sized business. YSC remains the innovative leader of the cash advance industry that provides unlimited business funds.
Contact info: James Puleo
Direct Line: 1-646-932-9751