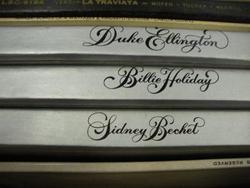 Denton, TX (PRWEB) January 15, 2009
The University of North Texas College of Music in Denton, Texas, one of the nation's finest comprehensive music schools, has contracted with Slapsale.Com to sell at online auction 100,000 surplus LP records from its extensive collection.
Labels include Capitol, Decca, Mercury, RCA, Reprise, Jazzology, Seraphim,
Somerset, Angel, and many others representing all musical styles.
The records are being sold in lots of 100, and aren't sorted in any particular manner other than label. After an initial quantity of 10,000 records (100 lots) closes online on January 21, the additional 90,000 records will be offered. There are sure to be some great deals!
There is no cost or obligation to register for the auction. Buyers are responsible for removing their own records, the University will not ship them. Interested persons should visit the website at Slapsale.com for auction terms and condition, inspection dates, and other information.
The auction is open to the public.
###