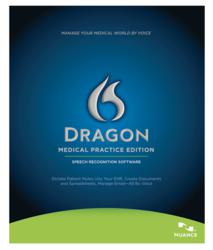 With Dragon® Medical Practice Edition I just dictate my notes, procedures and H&Ps into a Microsoft Word document
Dearborn, MI (PRWEB) September 24, 2012
Dr. Andrew L. Marcus is a prime example of a medical specialist who is saving time and lowering expenses since he introduced Dragon® Medical Practice Edition into his vascular neurology practice. That savings has enabled Dr. Marcus, a solo practitioner who has practiced medicine for 27 years, to devote more time to his patients and less time to office housekeeping. Designed for medical practices with less than 24 physicians, Dragon® Medical Practice Edition is the latest innovative speech recognition software now available from Nuance®.
Existing Recorders.com clients, like Dr. Marcus, have experienced the benefits of implementing Dragon Medical Practice Edition with the guidance from Recorders.com's expert technical team. Recorders.com is announcing its Premier Dragon Medical Practice Edition Support is now available to all current users of Certified Nuance products.
Like many solo practitioners inundated with patients, Dr. Marcus recently determined that he was ready to incorporate an electronic health record (EHR) system into the practice he founded. He helped develop his EHR system with another company and soon recognized the need for a speedy and reliable speech recognition solution to complement it. He went through a series of trials and errors with a few dictation and transcription systems, including a 'poor-quality' internet-based transcription system. He moved on to other systems with similar results. But since he and his assistant began using Dragon® Medical Practice Edition, secured and brought online through Recorders.com, the results have meant value for his office bottom line.
"With Dragon® Medical Practice Edition I just dictate my notes, procedures and H&Ps into a Microsoft Word document," says Dr. Marcus. "My assistant makes any corrections and I paste the finished product into my EHR. With this system, my consultations are polished. Another benefit is that now I have a template for my physical exam reports that I can place in my dictations with a simple command. Also, if a letter needs to be written I just dictate and it's ready for the patient in a matter of minutes."
Dragon® Medical Practice Edition can increase overall productiveness for physicians and medical staff, and successfully enable faster dictation than ever before with 99 percent effectiveness. As Dr. Marcus speaks into the Andrea microphone he uses with it, the software can type, open other computer programs and even browse the web. The ability to get diagnosis coding and paperwork done quicker allows Dr. Marcus to spend more quality time with patients instead of typing and correcting.
Dragon Medical Practice Edition has been an ideal partner for Dr. Marcus' EHR system. With the expert training and support of Recorders.com, he was able to quickly manipulate the Dragon Medical Practice Edition features and begin applying it to his day-to-day operations. As a client, he is able to access the Recorders.com experts day or night via online and web support services, which has made his EHR transition an easy one. For those in need of a one-stop resource for technical support, purchasing the Premier Dragon Medical Practice Edition Support program through Recorders.com may prove to be an invaluable solution.
Recorders.com expertise in this arena and commitment to client service is proven by its successful implementation of thousands of licenses in the healthcare industry, including over 200 application environments including Microsoft Word, and countless document management and EMR systems.
For more information about Dragon Medical Practice Edition, visit http://www.recorders.com/2255-Dragon-Medical-Practice-Edition.aspx.
About Recorders.com
Recorders.com is the leading supplier of digital dictation equipment in the United States. They have been in the dictation, transcription, and voice recognition industry for over 10 years. Their organization was established to help an ever growing mobile society communicate information quickly and easy. They provide innovative technology to make work and private life easier, more productive and in some cases more fun. They offer fast and reliable product delivery every day! They ship same business day on most orders and products are inventoried in seven warehouses across the United States to ensure quick shipments. They are the industry leader in digital dictation equipment; no other company is more dedicated to ensuring fast and accurate product fulfillment.
Recorders.com provides technology solutions for specific market segments. Their experienced staff is trained for the industry specific needs of the Medical / Healthcare, Legal, Law Enforcement, Government, Educational, Science & Research, Broadcasting industries; and for specific product requirements including lecture, conference, dictation, transcription, and interview technology needs. They ensure that their clients always make the right purchasing decision the first time.
# # #