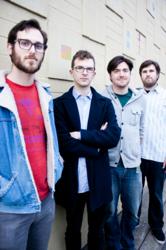 San Francisco, CA (PRWEB) May 22, 2013
The first single and video from Bay Area band Buckeye Knoll's new album, Lovecreek, was recently released on April 25. The name of the first single is "I Am Who I Am" and the accompanying video shows the new lineup of Doug Streblow, Graham Rolak, Alex Price and Peter Labberton spending time in beautiful San Francisco.
Lovecreek was recorded in a log cabin high up in the Sierra Mountains. This location was chosen by the group because they felt it was the most appropriate environment for singer Doug Streblow's thoughtful collection of songs about adventure, solitude, and discovery of oneself in the natural world.
With help from producer and engineer Cian Riordan and contemporary music giant Eric Valentine, Buckeye Knoll delivers their strongest and most textural collection to date. Members of Buckeye Knoll found inspiration for Lovecreek in the mountains. The album inspires listeners to pack up the car and head for the mountains to do the same thing.
Buckeye Knoll will be playing a show at Bottom of the Hill on Wednesday, May 29, with Vandella and Hills Like Elephants. Bottom of the Hill is a club located at 1233 17th Street in San Francisco.
Buckeye Knoll is an indie rock folk band from Oakland, CA. Buckeye Knoll features a contemporary, Americana style of folk and country music. Their sound has been compared to Wilco, James Taylor and Death Cab for Cutie. Lovecreek is their long-awaited second full-length album.
To purchase Lovecreek or find out more about Buckeye Knoll, visit http://buckeyeknoll.bandcamp.com.
About the company:
Studio SQ is a San Francisco-based recording studio that offers artists major studio quality music recordings and access to their vast collection of high-end gear. In addition, they offer PR services which include music promotion, brand development and online and college radio press campaigns at affordable and flexible rates so their artists can be truly competitive independently. The musicians they work with have the added benefit of their small staff's attention throughout the recording, strategizing, production and release, offering a rock-solid support team without the often constrictive contracts offered by many labels. Contact Studio SQ's San Francisco location at 415-401-7871 to learn more about their record mixing and music publicity services and rates.