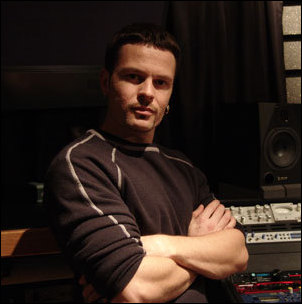 Chandler, AZ (PRWEB) December 28, 2006
WM Recording Studios (http://www.wmstudios.tv) was founded in Europe by Wade Martin in 1996, the company is a subsidiary of JWM Records and held by JWM Enterprises.
Wade is considered an elite music producer, engineer, artist and entrepreneur by some of the biggest names in entertainment and contemporary business. Everyone from the late Peter Walters (Founder of the "Make-A-Wish-Foundation") to Michael Mancini (multi platinum music producer) has publicly acknowledged Wade's formidable presence. As part of an elite group of music producers that record all their own instrumentation within their work, Wade is credited for playing over twenty different instruments. When you hear a WM song on the radio or online etc, 99% of the time he's playing all the instruments. Wade also arranges, mixes, produces in his own recording studios and then orchestrates the distribution and promotion of his work and others.
Wade's track record speaks for itself, he's cracked the US top 40 which is the hardest record chart in the world to break and did this in as little as eight weeks. He's succeeded by appealing to a diverse market from Rock to New Age lovers and almost everything in-between and he's done this by using his trench by trench tactics that are constantly being refined to maximize results in an ever changing market. In addition, Wade is an active beta tester for Digidesign helping them bring the most advanced Digi products to market.
WM Recording Studios serves as one of many crowning achievements for Wade. Servicing customers all over the world from R&B, Hip Pop, Rap, Rock, AC, to even science-based new age that studies the links to brain waves. More than just another recording studio due to the huge investments made in sample libraries and other top "producer" tools that other recording studios would never consider, due to the typical needs of a traditional recording studio which is normally record, mix and maybe master if they have the ability. Needless to say, clients love to use these WM producing tools to make their music stand out. The recording studio features some of the best engineers in the state, that also happen to be great music producers to back up Wade and help all clients meet there visions. Having one of the best mastering services in town is also an added benefit so clients can get it all done under one roof.
The Recording Studio has upgraded their (A) room to the most powerful Pro Tools rig in the southwest "HD 6 Ver7.3" along with a HUGE selection of the most sought after TDM Plug-ins in the world. In addition, a significant investment has been made in order to bare the "SSL studio" name by the purchase of brand new super analog SSL outboard gear. With a reputation of surpassing the expectations of all clients, it's no wonder the WM Recording Studios has become the success it has. The perfect balance of style, quality and comfort, Wade understands the importance of having a comfortable environment to work in, which is one of the keys to achieving the right vision.
A new chapter has dawned for WM Recording Studios in 2007 thanks to Wade's relationship with Matthew Earl Jones founder of "Translight pictures." The recording studio has a new alliance with this movie production powerhouse and consequently will be handling all their post audio for their upcoming movies. Matthew is the son of the actor "Robert Earl Jones" and the brother of actor James Earl Jones. Matthew chose a long time ago to share his talents behind the camera to find much success. In addition to running Translight Pictures Matthew has also picked up where his father left off by also running the "Earl Jones Institute" (http://www.earljonesinstitute.com). Founded in 1983 in New York City by his Father Robert its original mission was to assist women and minorities pursuing careers in acting. In May of 2004, Robert retired as president of the organization he founded, and appointed his son, producer Matthew Earl Jones, as his successor. Under Matthew's direction the mission of the organization was expanded to include assisting women and minorities working behind the camera, as well as in front.
The relationship between the two companies will certainly rival that of "Warner Brothers" in the near future. With the ability of making feature films and placing music at the top of the charts, the sky's the limit. Please visit the "WM Recording Studios" web site for more information.
# # #