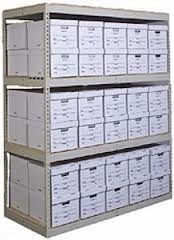 Our new way of selling record storage racks is simply revolutionary
Boston,MA (PRWEB) May 14, 2013
Record Storage Racks are very popular at A Plus Warehouse, and A Plus Warehouse is taking steps to make ordering record storage shelving even easier. When customers order record storage racks, particle board or other decking is always required – except for customers ordering the Tennsco Box Rail Record storage shelving. Most every website makes customers order decking separately. The new A Plus Warehouse way is to offer the record storage shelving pre-configured with decking and also with bankers boxes for those customers that need boxes as well. According to Ed Stairman, "Our new way of selling Hallowell record rack is simply revolutionary."
Customers are busy, and simply don't have time to waste ordering record storage racks or other industrial shelving. With the new Hallowell record storage rack offering, customers can save precious time in the order process. A typical record rack order entails searching for the rack then the decking and then the boxes. In each step, customers need to select the proper size, or have parts that do not fit.
The Hallowell line offers record rack in starters and adders which is a nice feature as well. By utilizing intermediate posts, customers can save money by getting fewer uprights. A row of 10 units is simply one starter and nine adders. Record storage racks are basically specially sized river shelving. A typical rivet shelving unit could be 72 inches wide. A rack filled with boxes will take only 69 inches of space, resulting in wasted storage space on a 72 inch beam. One of the standard record storage rack beam lengths is a perfect 69 inches for that very reason. Record storage racks are offered from five regional warehouses – so, A Plus Warehouse customers from Los Angeles to Atlanta, and all points in between experience prompt 'local' service.
Customers should count on A Plus Warehouse and Hallowell for record storage racks for several reasons:
(1) A Plus Warehouse has been selling quality Hallowell Hi Tech shelving for many years. This is a proven line.
(2) The multiple shipping locations make shipping less expensive.
(3) The record racks are available with steel decking as an alternative to particle board.
(4) A Plus Warehouse's sales people are ready to help with orders or quotes.
Hallowell List Industries not only manufactures record storage racks, but also makes lockers, work benches, storage cabinets and expanding metal gates.
A Plus Warehouse is available to answer any question on record storage racks, shelving, lockers or storage cabinets. Customers are encouraged to call 800-209-8798 or simply use the http://www.apluswhs.com.