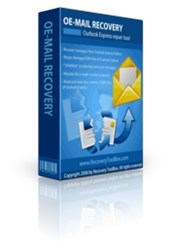 An exceptionally powerful and efficient piece of software that lets users recover Outlook Express messages.
Sacramento, CA (PRWEB) May 13, 2013
Recovery Toolbox, a renowned supplier of file analysis and data recovery tools for a broad range of commonly used applications, is glad to announce the release of OE-Mail Recovery, one of the most advanced tools of its kind available on today's market. This program helps recover Outlook Express data from damaged DBX files within minimal time and requires absolutely no technical background to successfully accomplish this task.
The intuitive interface of OE-Mail Recovery guides the user from file selection to saving of the recovery results and efficiently minimized the possibility of a human error. The updated file analysis core and recovery algorithms used in the latest version of this product enable users to recover Outlook Express data even in the worst cases of data corruption and get make to work after minimal downtime. OE-Mail Recovery recovers data from DBX files of up to 4 GB in size created in Outlook Express versions 5 through 6 and supports all popular versions of the Windows OS. The batch mode allows users to automatically recover data from multiple source DBX files and save substantial time and effort.
"Our new product takes the comfort of Outlook Express recovery to a new level. With an updated engine and the same intuitive interface, users can now recover Outlook Express data faster and save ample amounts of money that they would otherwise spend on costly and often slow recovery services," said Victor Bobrov, Senior Product Manager at Recovery Toolbox. "