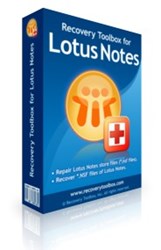 Recovery Toolbox for Lotus Notes, a powerful, fast and extremely efficient file repair solution.
Sacramento, CA (PRWEB) June 24, 2013
Recovery Toolbox, a well-known developer of high-quality file repair and data recovery tools, is glad to present the newest addition to the company's growing product portfolio – Recovery Toolbox for Lotus Notes. This powerful tool helps recover damaged Lotus Notes data stored in *.nsf files of any version and size.
The intelligent proprietary engine in the core of the program makes it possible to repair Lotus Notes files in the most serious data corruption incidents. The interface of the program is simple and intuitive, which makes the product a good choice for novices and people with no recovery experience at all.
At the same time, professionals will appreciate the speed and outstanding simplicity of use offered by the program. The software comes with a built-in viewer that allows users to see a list of recoverable items and mark specific ones for recovery. Restored data can be saved to a new or existing database, which will require the user to specify the server and database names. The program can also recover damaged Lotus Notes files that are protected with a password – in this case, the user will be prompted for the password.
"We are offering an all-in-one solution that will help anyone recover damaged Lotus Notes files in no time. Ease of use was our top priority from day one, so even users with no recovery experience at all with have no problems with the product," said Victor Bobrov, Lead Developer at Recovery Toolbox. "The work on the program continues, so we'll be seeing a lot of improvements in versions yet to come."