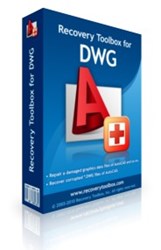 The tool helps recover DWG files created in AutoCAD 2000-2011 and requires zero recovery experience from the user.
Alexandria, VA (PRWEB) January 14, 2013
Recovery Toolbox, a Company known for its extensive line of data recovery solutions for popular applications, is glad to present the latest addition to its product portfolio, Recovery Toolbox for DWG. A compact and easy-to-use program, Recovery Toolbox for DWG fully supports AutoCAD 2000-2011 file formats and efficiently extracts valuable data from seriously damaged files.
The interface of the program is based on an intuitive recovery wizard that simplifies the process and helps recover DWG files in a few mouse clicks and a bare minimum of efforts. Unlike many competitors, the software enables users to preview the content of the damaged file, zoom in and out of the scene, as well as move and rotate it for the best viewing experience. If the program fails to recover a DWG file, the user can send it to the program developers for manual analysis and recovery using advanced low-level tools. Recovery Toolbox for DWG demonstrates outstanding performance on files of any size and does not need AutoCAD libraries for DWG file recovery.
"Our goal was to create a professional solution that would help users recover DWG files and yet be simple and accessible to not-to-tech-savvy people out there," explains, Senior Product Manager at Recovery Toolbox. "Judging by the comments we've been receiving, we did a pretty good job and helped many customers recover the results of many days of their work, which is exactly what we needed and wanted."
Recovery Toolbox for DWG comes with a free demo version that can be downloaded from the official web site.
# # #