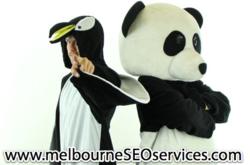 My goal is to raise awareness about solutions on how to recover from Google's Panda and Penguin updates.
Melbourne, Victoria (PRWEB) October 16, 2012
Early last year, Google let the world know it wasn't happy about low-quality sites getting top rankings in their search results, so they created a special algorithm that would weed out non-deserving websites. Released in February 2011 under the codename 'Panda,' the algorithm affected the rankings of nearly 12% of all search results. Needless to say, thousands of website owners were panic-stricken.
"To add insult to injury," says David Jenyns, internet marketing expert and owner of Melbourne SEO Services, "just over a year after Panda was released, Google introduced a new update named Penguin. It was like a double-whammy for those online businesses who were still trying to shake off the affects of Panda."
Google's combined goal for the Panda and Penguin releases was to display higher, more quality websites at the top of the search results.
"The only problem is, well, an algorithm is an algorithm," exclaims David, "and no matter how intricate and complex they make it, it can't take into account every variant of each and every website out there. It's caused some serious damage to websites and businesses doing the right thing."
David's company, Melbourne SEO Services, a full service SEO consultancy company specializing in web videos, have responded by producing a spoof video specifically targeting how to 'tackle' the Google Panda and Penguin updates'.
"We made and released this comic video to help raise awareness," remarks David, "to let people know there are solutions, even if they don't understand what happened, and that there's a way to recover from Google's Panda/Penguin releases."
The video, released on 10 October 2012, follows a life-sized Panda and Penguin, who are looking for innocent web browsers to rough up. Mocking the effects of Google's algorithms, the Panda and Penguin assault innocent citizens at various locations, leaving them stunned and confused as to what's happened.
"The Panda and Penguin sort of come out of nowhere, sneak up, and discombobulate people browsing the internet," laughs David, "the people become confused as to what's happened – the same as how people became confused with the outcome of the Google updates."
"The goal of this video is to show, symbolically, that you can recover from Google's Panda and Penguin updates," explains David, "People are working really hard to grow their online businesses in tough economic times, and if they're anything like me, I'm sure they're willing to do whatever it takes to get back in Google's good books."
David further adds, "Google's updates made the online community feel really vulnerable, but only to those who weren't following Google's guidelines and note adding value to the end user. We've tapped into a variety of methods to recover from Google's Panda and Penguin updates, and I'm truly happy we can help people recover."
The spoof video was released on 10 October 2012, and can be viewed on Melbourne SEO Services YouTube Channel: http://www.youtube.com/user/theseomethod
About Melbourne SEO
MelbourneSEOServices.com is a full service search engine optimization (SEO) consultancy, based in Australia, but with a worldwide client base.
Known for being at the cutting edge of strategic SEO practices, the company delivers a growing suite of services including: on-page and off-page search engine optimization, article distribution, SEO press release service, web video production and one-on-one consulting.
Melbourne SEO Services Director, David Jenyns, has, over several years, built a team of experts who are niche experts to support the business, and who share his ethos for ethical, professional internet marketing.
Click here if you've been hit by recent Google Penguin and Panda updates and want a your own tailored-fit recovery strategy. We can help your website get back on page number one of Google.