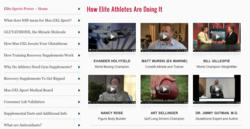 ...gym supplements and recovery supplements are also becoming more sophisticated
(PRWEB) January 31, 2012
As the Olympic Games approach, there is an increased focus on the training strategies of elite athletes. With this in mind, former elite athlete himself, Kenny Roman has made the importance of training recovery, including the use of recovery supplements, the focus of his new website, EliteSportsPower.com.
Ex-pat South African, and now proud Australian, Kenny Roman has experienced first hand the challenges of athletes trying to reach their personal goals. With the growing impact of science and technology on training and performance nutrition, even the everyday athlete, Mr Roman believes, can become confused.
"There is no doubt that the current training and recovery strategies being used with today's elite athletes are very different from of their parents' day" said Mr Roman. "Not only are training, performance and recovery techniques themselves evolving, but gym supplements and recovery supplements are also becoming more sophisticated."
"The sports nutrition and recovery supplement business is very lucrative, and the marketing spend to attract customers is staggering" he continued.
Persuasive sales messages offering, for example 'supplements to get ripped', Mr Roman believes, can often leave consumers disappointed and confused.
"Through EliteSportsPower.com I hope to remove some of that confusion, and draw upon the experiences of elite athletes to do so" said Mr Roman.
EliteSportsPower.com features videos from boxers, weightlifters, body builders, golfers and trainers, and has a growing number of articles on training recovery and recovery supplements.
For more information visit EliteSportsPower.com
About Kenny Roman
A successful businessman, researcher and former elite-level athlete, Kenny Roman knows all about meeting challenges and overcoming obstacles. In fact, it is this knowledge, and his life-long love of sports, that has been at the heart of his interest in better sports training techniques and the benefits of recovery supplements.
His personal mission is to communicate how sportspeople, regardless of their age, learn how correct training and recovery can improve their performance and extend their competitive years.
Learn more about Kenny Roman and EliteSportsPower.com
###