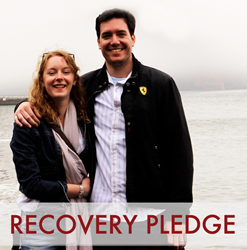 The goal is to stabilize sales.
Valencia, California (PRWEB) September 25, 2014
Christopher Girdwood witnessed the turmoil small business owners experience while he worked in New Orleans during the 2010 Deepwater Horizon Oil Spill.
In a disaster, nonprofit groups can bring in needed water, canned food, and blankets and the federal government can provide low-interest loans. Customers are lost, though, and local businesses are devastated.
"Companies can't pay back a loan, even a low-interest one, if there are no customers," says Christopher, a native of Detroit, Michigan who works in economic development and urban planning.
He is based in Valencia, California and his solution is Recovery Pledge, a social enterprise that connects small businesses with customers around the nation.
According to the Insurance Information Institute, up to 40 percent of businesses affected by a natural or man-made disaster never reopen. Christopher believes consumers will direct their buying habits to support disaster-stricken companies if given the opportunity.
"A private sector approach to disaster recovery can compliment the work of charitable organizations," he says.
Local businesses in New Orleans and those he has met in Los Angeles have responded with enthusiasm.
The next step to make Recovery Pledge a viable platform on a national scale is the development of an e-commerce site allowing consumers to purchase from the businesses that sign on. Shoppers can purchase recovery pledges, which are vouchers for the goods and services small businesses sell on a daily basis. This creates operating cash despite a disaster.
Shoppers will be able to follow the business in its recovery process and the website will show where in the country the purchases are made.
Recovery Pledge is in the final two weeks of an Indiegogo crowd-funding campaign to raise $7,500 to build the social enterprise platform.
"The goal is to stabilize sales. This also sustains a tax base and helps the entire community."
About Christopher Girdwood
Christopher's professional background in public-private partnerships with the Department of Defense and work with the International Economic Development Council in Washington, D.C. makes him an ideal interview on the topic.
Contact him directly at 517-230-5288 and via recoverypledge.com or the Recovery Pledge Indiegogo campaign page.