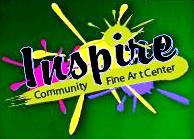 San Antonio, TX (PRWEB) May 30, 2013
Inspire Community Fine Art Center is proud to announce their upcoming May and June classes and events. ICFAC is a local non-profit organization that provides art education to students of all ages. They will be offering many different classes and camps for the summer.
May's workshop is Plein-Air painting and there is availability May 8, 15, 22 and 29. It will be held on Wednesdays from 9-10 a.m. Students will focus on painting in the traditions of Monet and the Impressionists. The course will also include field trips to Brackenridge Park and the Japanese Tea Garden.
Summer classes begin June 3 and summer camps for youth artists will begin June 10. Those interested in classes or camp should register in advance to reserve a spot. Classes for adults include a wide range of art medium focuses, from blacksmithing to landscape painting. There are classes for seniors as well as introductory classes for children ages 6-8.
Summer Camps for youth artists are either for kids ages 6-8, 6-13 or 9-13. For kids 6-8 there is How to Draw Animals and Marvelous Marbleized Polymer Objects. For kids 6-13, there is Still Life Painting & Drawing and Drawing & Painting on Photographs. For kids 9-13, there is Polymer Clay Jewelry making, Basic Art for Kids, Native Americans of the Southwest, Mixed Media Drawing and A Relief on Thin Metal.
For a complete list of the classes offered, please visit the ICFAC website: http://www.inspirecommunityarts.com.
ICFAC also has an outreach programs to further their efforts within the community to inspire artistic habits. They have four active programs in the city of San Antonio that provide art education to children that do not have access to art programs, art instruction to women recovering from drug dependencies and classes to families and children living in the SAMMinistries Transitional Living and Learning Center.
About the company:
Founded in 2005, Inspire Community Fine Art Center is a local non-profit 501(c)(3) organization dedicated to providing enriching and beneficial art education experiences for learners of all ages. The Visual Art Education Program at the Center offers individuals ages 6-70+ art instruction in ceramics, technical and artistic welding classes, painting, drawing, jewelry making, and sculpture. In addition, a summer art camp, free family art days and discounted classes for seniors are offered. The Center's community outreach program, Art for Wholeness, began in 2006. The purpose of the program is to help children and adults cope with difficulties through a creative and constructive manner in order to promote wholeness and healing. The program helps enhance personal growth, deepen self-awareness, and offers a constructive outlet for handling emotional distress. Through the visual arts, art classes, and recreational activities, the Center is making a difference in the community. For more information on classes for youth or adult artists, please visit their website.