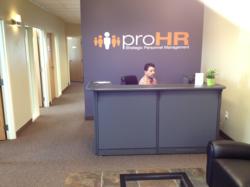 Salt Lake City, UT (PRWEB) May 14, 2012
With graduation season in full swing, now is one of the best times for companies to start hiring new talent. Human resource departments are often burdened with taking care of general policy and staff development needs, leaving little time for recruitment efforts. Outsourcing all or part of the recruitment process to a human resources management agency like proHR can save time and money, while improving the overall hiring process.
"There are many reasons a company may choose to outsource the recruiting function," said Kristen Harisay, president of proHR. "A lot of time and attention from management and HR professionals goes into hiring a new candidate. By outsourcing this function they can focus their attention on broader issues the company is facing, while an outside expert takes care of finding quality candidates."
Utah's strong business economy, particularly in the technology sector has created a competitive market for finding and retaining the best talent. Recently, Adobe Systems, eBay, Electronic Arts and Oracle have all expanded business operations in the state.
Utah has been ranked the top state for business by Forbes magazine for the past two years.
According to research from Moody's, job growth in Utah is expected to grow by 2.4 percent annually until 2015. ProHR specializes in recruiting top technology talent for this growing market.
The hiring outlook is also getting better for new college graduates, according to the National Association of Colleges and Employers. In a recent survey, employers indicated that they expect to hire 10 percent more new college graduates this year than in 2011. This is the second consecutive year that employers have shown increased hiring projections from their original numbers in the fall.
"You can't simply put out a job posting like you used to be able to in a less competitive market. Most of your top talent is gainfully employed. What you need to do is work with a recruiter who uses other means of networking to really find and engage those who aren't looking, the passive candidates," said Josh Brecheisen, a recruiter for proHR. "It's important to find someone who will really refine your process and understand who will fit with your company."
According to proHR, a good recruiting firm will:

Help attract high-quality candidates who have proven success in their industry
Increase the quality and quantity of the candidate pool
Save the company time by vetting resumes and pre-screening candidates, eliminating any unnecessary interviews
Understand your business and have a thorough understanding of the positions and hiring needs
Help reduce hiring costs and the overall time to hire
ProHR specializes in recruiting individuals for technology jobs. One client contacted them in a panic looking for someone with a very specific and highly technical skill set. ProHR found the ideal candidate within a few days, meeting their immediate need to fill the position.
"What makes us different is we are an HR company doing recruiting. We follow HR procedures and are very professional. It's not about the dollar; it's about understanding what our clients need and being able to work with them on a continuous basis," Brecheisen said. "It's important to understand their needs when they're not looking, so we can help them when they need us most."
About proHR
Utah-based proHR is a national human resources management service specializing in the HR needs of small and mid-sized businesses working within Web-based and technology-driven sectors. ProHR understands that nothing is more critical to a company's success than the effective management of its most important asset – human capital. Visit http://www.prohr.com/ for more information.