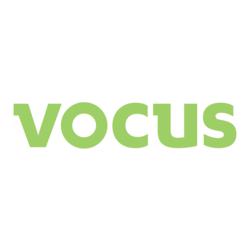 Work-life balance has been a cornerstone in our company's track record of consistent, stable and sustainable growth.
Beltsville, MD (PRWEB) September 08, 2011
Vocus, Inc. (NASDAQ: VOCS), a leading provider of cloud-based marketing and PR software, will be hosting an open house recruitment event on September 29th from 5:30-8:30pm E.T. The event is part of the company's drive to recruit top talent from the DC and Baltimore areas as it increases its employee base in the coming months.
The open house will take place at the brand new Vocus corporate headquarters in Beltsville, MD. Every attendee will have the opportunity to meet and mingle with Vocus executives, hiring managers and the recruiting team in a networking atmosphere where they can investigate Vocus as a career choice and learn about the full-time openings available.
Attendees will also get a chance to tour the company's breathtaking new headquarters. Built to look and feel like an indoor town, the 93,000 square foot building boasts a gym, basketball court, spa, radio station, and candy shop among other office amenities. Employees meet and mingle in the building's non-conventional conference rooms and common areas, which are all themed – destinations include the Surf Shop, the Capitol Hill Arcade and Rick's Coffee House. This work-hard, play-hard atmosphere is what makes Vocus a high-energy, fast paced environment and a great place to work.
"Work-life balance has been a cornerstone in our company's track record of consistent, stable and sustainable growth," says Rick Rudman, Chief Executive Officer and President at Vocus. "Now, we've built this town to fill it with the best and brightest talent. It's a real town, with a place to work, to work out, to chill out, to play, to meet and to socialize. When we get to make the choice of meeting either in a conference room or a coffee house, depending upon our mood, we actually get more work done. And when we can work hard but also play or relax or socialize, we're happier employees."
The event is free and open to dedicated and passionate candidates interested in working for a leading software firm in any of the following areas:

Sales
Marketing
Technology
Accounting
Finance
For more information and to RSVP for the event, please click here.
About Vocus
Vocus (Nasdaq: VOCS) is a leading provider of cloud-based marketing and PR software that helps organizations of all sizes reach and influence buyers across social networks, online and through the media. Vocus provides a suite of software for social media, content marketing and media relations, creating a comprehensive solution for our customers looking to generate awareness, build their reputation and increase sales in today's customer-led buying cycle. Vocus is used by more than 30,000 organizations worldwide and is available in seven languages. For more information, please visit http://www.vocus.com or call (800) 345-5572.
This release contains "forward-looking" statements that are made pursuant to the Safe Harbor provisions of the Private Securities Litigation Reform Act of 1995. These are statements that are predictive in nature, that depend upon or refer to future events or conditions, or that include words such as "may," "will," "expects," "projects," "anticipates," "estimates," "believes," "intends," "plans," "should," "seeks," and similar expressions. This press release contains forward-looking statements relating to, among other things, Vocus' expectations and assumptions concerning future financial performance. Forward-looking statements involve known and unknown risks and uncertainties that may cause actual future results to differ materially from those projected or contemplated in the forward-looking statements. Forward-looking statements may be significantly impacted by certain risks and uncertainties described in Vocus' filings with the Securities and Exchange Commission.
The risks and uncertainties referred to above include, but are not limited to, risks associated with possible fluctuations in our operating results and rate of growth, our history of operating losses, interruptions or delays in our service or our Web hosting, our business model, breach of our security measures, the emerging market in which we operate, our relatively limited operating history, our ability to hire, retain and motivate our employees and manage our growth, competition, our ability to continue to release and gain customer acceptance of new and improved versions of our service, successful customer deployment and utilization of our services, fluctuations in the number of shares outstanding, our ability to integrate acquisitions, foreign currency exchange rates and interest rates.
###