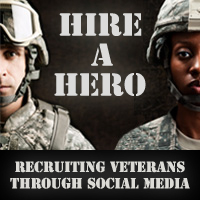 Recruiting veterans into organizations is a strategic advantage for companies. This webinar will help employers tell their story via innovative recruitment advertising campaigns and open the door to veterans."
Gloucester, Mass. (PRWEB) August 06, 2012
Recruiting and retaining veterans of the armed services can add value to any organization. Yet, corporate recruiting teams can often struggle to execute on their goals to effectively find and hire veterans. HireClix, a digital recruitment marketing agency based in the Boston area, in collaboration with The Value of a Veteran, will host a new recruiting webinar "Recruiting Veterans through Social Media" on Aug. 9 at 2 p.m. EST. The free webinar will highlight the unique knowledge, qualifications and skills veterans can bring to an organization's workforce and specific strategies on how to attract qualified veterans via social media recruiting. Free registration for the webinar is now open at http://www.hireclix.com.
"I've been on both sides of veteran hiring, as an employee and as a consultant to employers. Speaking from personal experience, an organization that takes a few simple steps to adapt its recruiting efforts to appeal to veterans will be much more successful and meet its hiring goals more quickly," says Lisa Rosser, founder of The Value of a Veteran, a consultancy focused on helping employers retain and recruit veterans.
The "Recruiting Veterans through Social Recruiting" webinar will cover:

the importance of recruiting and retaining veterans, including the value veteran employees can bring to an organization
leveraging military keywords to recruit online and source veterans with specific skills
how to develop Facebook and LinkedIn advertising campaigns to target veteran hires
determining whether a Facebook fan page will be effective in recruiting veterans
the steps to take to build a strategy for recruiting veterans
"Recruiting veterans into organizations is a strategic advantage for companies," says Neil Costa, founder CEO of HireClix. "Lisa's in-depth knowledge on how to find military talent, combined with HireClix's social media marketing expertise will help employers attract talented veterans via innovative recruitment advertising campaigns."
The webinar will be hosted by Rosser and Costa. Rosser's military career includes 10 years of active Army duty, serving in the Gulf War, Somalia, and Bosnia, plus 11 years of service with the Army Reserve. Her Army Reserve career focused on operations and performance management, recruiting, placement, training, and skills development. She also applied that experience during an eight year career at Accenture, the global management consulting firm. In 2007, Lisa founded The Value Of a Veteran and began leading workshops and webinars for corporate, government and higher education organizations.
Costa is the founder and CEO of HireClix where Costa and his team develop and manage innovative social recruiting campaigns for clients in many diverse industries. Costa has 15 years of experience in targeted digital advertising, search marketing and online recruitment advertising. He frequently speaks on topics regarding the innovative use of digital recruitment marketing to change the way organizations find and recruit talent, as well as the challenges and opportunities of today's job market.
About HireClix
HireClix is a digital recruitment marketing agency that helps corporate recruiting teams, staffing firms, and other businesses get practical results by delivering customized recruitment marketing campaigns. HireClix is focused on building employer brands to find quality candidates through innovative recruitment marketing strategies and zealous support. Leveraging search engine optimization, pay-per-click recruiting, interactive advertising and social media, HireClix helps companies move beyond job boards and realize better results on their recruitment marketing investment. Contact HireClix at 617.899.1166 or by email at contact(at)hireclix(dot)com .
# # #