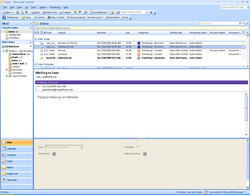 Pointwing has worked very well for us at Radius. It has a short learning curve, is easy to navigate and use and has been very reliable. As a recruiter and manager, I like the fact that it is highly customizable and find Pointwing's integration with Outlook to be very useful to our productivity.
Atlanta, GA (PRWEB) September 2, 2009
The imperative for staffing and recruiting business owners in today's recessionary economy is to reduce effort and costs while increasing the quality of their services to customers, candidates and employees. It may seem to be a near-impossible task, but the latest 2.0 release of Pointwing Front Office recruiting software helps to do just that with its tighter integration to Microsoft Outlook.
Some of the new benefits to recruiters, staffing coordinators and sales staff of the tighter two-way integration between Pointwing recruiting software and MS Outlook are:

Users can initiate new email from either Pointwing or Outlook and have that activity tracked within Pointwing. Inbound emails are instantly identified and recorded in the correct Pointwing Contact or Candidate record enabling the end user to efficiently manage and prioritize their daily communications, while insuring that their daily activity metrics are tracked.
Email marketing campaigns can be sent using the comprehensive capabilities available within Outlook, while recording the activities within Pointwing for tracking and reporting.
Pointwing users can find Pointwing Contacts and Candidates directly from within Outlook to compose their email, appointment or task. For more information about a Contact or Candidate, they can jump to the associated Pointwing record from Outlook or create a new Pointwing record from Outlook if the record does not already exist.
Outlook integration leverages the Pointwing resume parsing tool to enable the user to easily parse a resume attachment or parse directly from the body of the email.
Pointwing also gives recruiters a quick way to move through records and complete Tasks for a record. This can be done from a single record or from a grid and can be performed without leaving the record. They can then go to the next record and continue.
The tighter integration between Pointwing recruiting and staffing software and MS Outlook also includes administrative and management capabilities that reduce the challenges often experienced in other recruiting packages with integrated email.
For example, the Pointwing administrator can control whether to enable the auto add of emails and can omit certain email addresses or Internet domains from being monitored. This auto-add feature may also be turned on or off at the user level.
Additionally, Pointwing offers better tracking of activities and a more efficient workflow that enables the recruiter to focus on using their best marketing options, and the flexibility of managing their emails from Outlook or Pointwing leading to quicker user adoption and improved productivity.
Pointwing gives users a 360 degree customer and candidate view anytime, anywhere.
Emails sent and received in Outlook are captured seamlessly within Pointwing in real time. Users have instant access to a complete email history in Pointwing without having to worry about performing a separate synchronization on their activities.
Pointwing users can take full advantage of the Outlook Calendar to manage appointments, view their own or shared calendars, and save selected activities within Pointwing. The user can create an appointment from either Pointwing or Outlook.
These new features will only enhance the proven performance of Pointwing according to Aaron Schindler, Regional Office Manager for Radius Staffing. "Pointwing has worked very well for us at Radius. It has a short learning curve, is easy to navigate and use and has been very reliable. As a recruiter and manager, I like the fact that it is highly customizable and find Pointwing's integration with Outlook to be very useful to our productivity."
Steve Taylor, President and CEO of VCG, said "Pointwing was introduced with two-way integration to MS Outlook last year. With the enhancements we've made with this release, that integration is now even more comprehensive. Recruiters, staffing coordinators and sales staff who now spend upwards of 40 percent or more of their time working with email can now do so in Outlook while having all of the relevant communications and activities tracked and managed within Pointwing. This improves the speed, productivity, management and success of the entire recruiting process."
About Pointwing
Pointwing® is a modular recruiting software suite that accelerates the process of finding and placing the people most likely to thrive and streamlines unique business processes to improve productivity, control costs and manage margins. Modules available include:
Pointwing Front Office - the core recruiting software module that accelerates recruiting and sales by integrating account and candidate/employee management, Smart Match semantic resume search engine, Job Publisher job board posting, Resume Sourcer search spider, job placement, two-way Microsoft Outlook integration and more.
Pointwing Self Service - a Web portal module that connects the Pointwing Front Office module to your Web site in real-time, enabling you to post jobs and resources/candidates to search for jobs, register and/or update their profile, upload their resume and apply for jobs.
Pointwing Software Kit - a module which gives you access to Pointwing's open API to create custom applications that integrate with Pointwing or integrate Pointwing with virtually any third-party application.
Pointwing is easily deployed in the manner best suited to your firm's recruiting business operational needs: On-demand software as a service (SaaS) subscription; managed services (licensed software with VCG-hosting); or enterprise (licensed software with self-hosting).
For more information regarding Pointwing or to register for a live online Webinar demonstration, visit http://www.pointwing.com or call 800-318-4983.
About VCG
VCG provides comprehensive staffing and recruiting solutions that power success. Since 1976, VCG has helped hundreds of companies worldwide achieve operational excellence by streamlining their unique business processes and accelerating finding and placing the people most likely to thrive. VCG and Pointwing are registered trademarks of VCG, LLC. For more information visit: http://www.vcgsoftware.com or http://www.pointwing.com or call 1.800.318.4983.
###