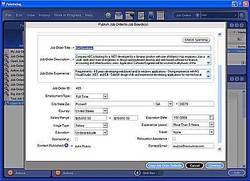 Atlanta, GA (PRWEB) February 2, 2009
Recruiting and staffing companies are faced with increased challenges in today's troubled economy. To find and place the "just right" candidate with their customers among the many that may be available requires that they re-double their focus on speed, efficiency and accuracy. VCG offers recruiting and staffing firms exciting new integrated tools that enable that success with version 1.4 of their Pointwing Front Office recruiting software.
Pointwing Job Publisher gives you the ability to quickly and easily post your jobs from within Pointwing to multiple free and premium job boards such as Career Builder, Monster or Dice. This is done through Pointwing's integration with Data Frenzy, a leading provider of job board aggregation. Resumes submitted by candidates in response to your job postings are directly available in Pointwing for parsing, search and match. Your job postings and their management are handled within your Pointwing recruiting software to simplify your recruiting process and enable you to monitor job board performance and ROI.
Pointwing Resume Sourcer is also available in Pointwing through its Data Frenzy integration. This gives you the ability to submit custom Web crawler (spider) resume searches across multiple sites. All matching resumes from all sources are then retrieved, analyzed by a contextual search algorithm, ranked in order of relevance to your search criteria, and displayed in order of relevance. These searches help you quickly find those elusive passive candidates who may not respond to your job postings. From the results of these searches you can then determine which candidate resumes you wish to parse and upload into Pointwing for follow up.
Steve Taylor, President and CEO of VCG, said, "The integration of Pointwing Job Publisher and Pointwing Resume Sourcer are further evidence of the growth of Pointwing as a comprehensive recruiting and staffing tool for success. The Internet gives recruiters and staffing company's broad access to an ocean of data. What we've done is enable them to leverage that access and use it or filter the data to their ends. That reduces the time and effort that recruiters have to spend finding qualified candidates and ultimately means a faster, more successful and profitable placement."
About Pointwing
Pointwing® is a modular recruiting software suite that accelerates the process of finding and placing the people most likely to thrive and streamlines unique business processes to improve productivity, control costs and manage margins. Modules available include:
Pointwing Front Office - the core recruiting software module that accelerates recruiting and sales by integrating account and candidate/employee management, search, job placement, two-way Microsoft Outlook integration and more.
Pointwing Self Service - a Web portal module that connects the Pointwing Front Office module to your Web site in real-time, enabling you to post jobs and resources/candidates to search for jobs, register and/or update their profile, upload their resume and apply for jobs.
Pointwing Software Kit - a module which gives you access to Pointwing's open API to create custom applications that integrate with Pointwing or integrate Pointwing with virtually any third-party application.
Pointwing is easily deployed in the manner best suited to your firms' recruiting business operational needs: On-demand software as a service (SaaS) subscription; managed services (licensed software with VCG-hosting); or enterprise (licensed software with self-hosting).
For more information regarding Pointwing or to register for a live online Webinar demonstration, visit http://www.pointwing.com or call 800-318-4983.
About VCG
VCG provides comprehensive staffing and recruiting solutions that power success. Since 1976, VCG has helped hundreds of companies worldwide achieve operational excellence by streamlining their unique business processes and accelerating finding and placing the people most likely to thrive. VCG and Pointwing are registered trademarks of VCG, LLC. Other trademarks used herein are the property of their registrants. For more information visit: http://www.vcgsoftware.com or http://www.pointwing.com or call 1.800.318.4983.
###