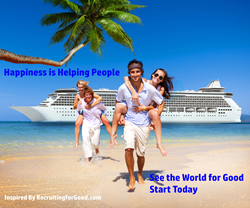 Happiness is helping people travel to change and see the world for good
Santa Monica, CA (PRWEB) February 23, 2016
Recruiting for Good, a fun cause based staffing agency whose mission is "Helping People Travel and See the World for Good" launches a service that rewards people who book reservations with cruise travel agencies and make professional referrals, savings on Fathom Cruises and flights.
According to Carlos Cymerman, founder of Recruiting for Good, "Fathom recently invited me to the Dominican Republic to participate in social good projects that included; clean water access, re-forestation, and teaching kids English…the trip has inspired our staff to use recruiting for good and help fund group travel, so that more people can enjoy Fathom trips and do good."
Why Fund and Reward Fathom Savings
Recruiting for Good works exclusively to save Fathom travelers money (on cruise and flights) and lower the cost of travel. While on board Fathom provides travelers training, and mindful seminars that make a lasting difference. Fathom also provides travelers opportunities to participate in a variety of social good projects that contribute to the welfare of local communities.
Helping Travel Agencies Book Group Fathom Trips
Recruiting for Good only works with travel professionals and agencies that book Fathom group trips. Recruiting for Good makes it easier for travel professionals to attract and retain new clients; by saving people money on Fathom cruise destinations and flights. People who book travel to the Dominican Republic in 2016 and successfully participate in Recruiting for Good's travel referral service; will also earn an additional $500 gift card to enjoy future travel with Fathom to Cuba.
How Groups Save Money On Travel With Recruiting for Good
1) A person from a group simply refers a family member, friend, or co-worker who is looking for a technical job to Recruiting for Good.
2) Recruiting for Good works to find the referred person a suitable technical job with a company.
3) When the referred person completes the probation period. Recruiting for Good rewards $2,500 toward the groups' travel reservation (to pay for cruise and flights booked with travel agencies).
ABOUT
Recruiting for Good, a fun cause based staffing company, whose mission is "helping people travel and see the world for good;" has been connecting talented Information Technology and Engineering professionals to great jobs; since 1998. Recruiting for Good; rewards people who make referrals with fun global travel to enjoy or share with family and friends. Visit RecruitingforGood.com to start today.
Fathom Impact+Travel Cruises
Pioneered by Fathom, impact travel is a whole new category of travel: it's travel with purpose. Travel that transforms lives. Impact travel with Fathom provides the opportunity to build community with like-minded travelers, become immersed in another culture, and work alongside its people to create enduring social impact. For more information, visit Fathom.org