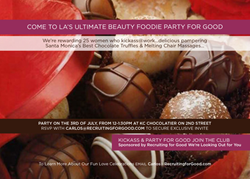 Come Celebrate Women Who Kickass@Work & Party for Good Join the Club
Santa Monica, CA (PRWEB) June 21, 2017
Exclusive celebration rewarding women professionals, is happening on Monday July 3rd, 2017, from 12 pm to 130 pm, and is being held at KC Chocolatier on 2nd Street in Santa Monica. To guarantee an invite RSVP to Carlos(at)RecruitingforGood(dot)com.
Recruiting for Good, Founder, Carlos, "We are looking to celebrate and reward women who kicka$$ at work, a fun party for good. It's our way to say thanks."
Nominate Best Performing Employee
Companies, executives, and senior management can nominate employees who standout at work and deserve recognition, by nominating and submitting names to Recruiting for Good. Chosen employees will receive special invite for exclusive event.
About
Recruiting for Good, is a fun social staffing company that has been connecting talented technical professionals to great jobs since 1998. To find the best talent often, find your next kick*ss job and party for good email Carlos(at)RecruitingforGood(dot)com