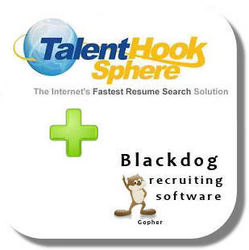 TalentHook has proven itself as the best sourcing and lead generating tool for the high volume recruiter! Not only does the software pull REAL results, it also assists in organizing client information and resumes ...
Crested Butte, CO (PRWEB) July 28, 2010
BlackDog Recruiting Software has a long standing reputation for fast and accurate resume importing into its applicant tracking system, Gopher for Recruiters. The Gopher system, evolved from the constant and changing needs of its recruiting customers, has refined the essential elements of importing resumes into its resume database.
Accuracy – Getting the name, address, phone and email correct even when the resume is not in a traditional layout.
Flexibility – Import over 60 file types (doc, docx, PDF, html, etc.) in many different languages: English, German, French, Spanish, Dutch, Swedish, etc.
Speed and volume
Associating and tracking resumes to positions/jobs
Filtering keywords and keyword synonyms
Keyword density recognition
Candidate to job matching by location
Blackdog's resume importing is fueled by the Sovren Resume/CV Parser; the world's most accurate, fully-featured, fastest, scalable and configurable Resume/CV Parser.
With the new TalentHook integration, BlackDog's recruiting customers that opt to purchase TalentHook will have access to thousands of Internet resume sources. Recruitment with BlackDog's flagship product, Gopher for Recruiters, now provides the searcher access to TalentHook's extensive search functionality that includes pay sites, free sites, search engines, social networking sites, diversity, college and alumni websites and much more. Searches can be scheduled in advance to run during off peak times, allowing the recruiter to put their resources to use retrieving resumes virtually around the clock. TalentHook supports customized reporting that is OFCCP compliant and eliminates resume duplicates for cleaner, more efficient results that streamline and enhance the quality of search results.
TalentHook was founded in 1999 by recruiters looking to establish an effective way to automate and improve the Internet resume search process. Coming from the transactional and demanding staffing industry, Resource Edge engineers knew firsthand how cumbersome and ineffective the manual searching for Internet candidates was becoming across the industry. Resource Edge CEO Phil Gonzalez has extensive experience as a former staffing company owner and places immense importance on his team being customer-focused while staying on top of recruiting trends, needs and techniques that can help recruiters function effectively and remain productive.
With the new TalentHook integration, customers enabled with TalentHook experience the powerful Gopher for Recruiters applicant tracking system combined with a true Internet resume search solution, making it the quintessential 'All-in-One' recruiting tool for recruiters and staffing industry experts alike. To learn more about enabling TalentHook with the Gopher for Recruiters system, contact BlackDog at 800-316-0852.
###