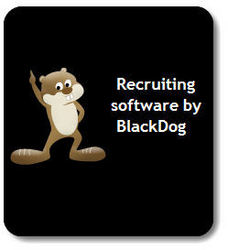 If you do not have skills in recruiting techniques and practices then you are wasting your money buying recruiting software
Crested Butte, CO (PRWEB) March 30, 2010
BlackDog Recruiting Software, the makers of Gopher for Recruiters, and Bill Radin, one of the premier trainers and authors in the recruiting industry, announced a new partnership today to provide Bill Radin's training products and consultation services through BlackDog's customer distribution and marketing channels.
BlackDog's recruiting software product, Gopher for Recruiters, has a long established history of providing recruiting software that is comprehensively merged with the techniques and good practices of recruiting. When coupled with Bill Radin's extensive background in recruiting training and writing, BlackDog now offers an unparalleled opportunity for recruiters to enhance and expand their education and earning capability within the industry.
When asked about the collaboration, Ken Peck, owner and President of BlackDog Recruiting Software had this to say: "Our philosophy has always been that if you do not have the skills or training in recruiting techniques and practices then you are wasting your money buying our products, or any other staffing software product for that matter. This collaboration with Bill will not only boost our clients' ability to use our products more effectively but it will help them become more knowledgeable and profitable recruiters over all."
BlackDog's approach to recruiting success is based around training, internships and mentoring coming before the use of specialized tools like recruiting software. Once a recruiter has that background in place, BlackDog continues the education process by having training aids and recruiting scripts built directly into its recruiting products. In addition, BlackDog provides the ability for the recruiting firm to write its own procedures and techniques and build them directly into applicant tracking products like Gopher for Recruiters and then the ability to quickly and easily modify these procedures and techniques as the firm grows and the industry changes.
Bill Radin is a top-producing recruiter whose innovative books, CDs and training seminars have helped thousands of recruiting professionals and search consultants achieve peak performance and career satisfaction. Bill's extensive experience makes him an ideal source for techniques, methods and ideas for rookies who want to master the fundamentals—or veterans ready to jump to a higher level of success.
One of the most popular and highly regarded trainers in the recruiting industry, Bill has trained many of the largest independent and franchised recruiting organizations, including Management Recruiters, Dunhill, Sanford Rose, Snelling and Fortune Personnel. His speaking engagements include the NAPS national conference, the annual Staffing Industry Summer School in Chicago, and dozens of state association meetings and network conventions, including Top Echelon and Splits.org.
Under his leadership as manager and training director, Bill helped Search West of Los Angeles and Management Recruiters of Cincinnati set individual and company billing records. In addition to his best-selling industry-specific books for recruiters, Bill has also authored the critically acclaimed career books, Take This Job and Leave It and Breakaway Careers, published by Career Press.
Bill Radin's recruiter training products that will be immediately available through BlackDog include his books, videos, webinars and direct consultation services. BlackDog also plans to provide one-on-one mentoring services by Bill Radin to BlackDog's customer base. This collaborative partnership will significantly expand the recruiter's success potential by allowing quick access not only to Bill's products but also to his direct counseling for their real world situations.
# # #