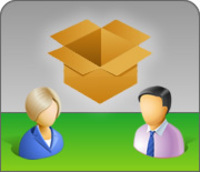 In one place you can find a lifetime of recruitment, PR, software, design, marketing, mentoring, training, finance... pretty much everything you need to guarantee your agency's success.
(PRWEB) May 21, 2010
For the first time ever agencies will be able to find the best recruitment-specific products and services in one place.
Featured on the front cover of this month's Recruitment International, Recruitment-in-a-box founder Mike Charter said: "This is more than a beauty parade. Anyone listed has been recommended time and time again by customers. Whether you are a 1-person start up, or a 500-strong corporate, you will find something useful in Recruitment-in-a-box."
A recruitment agency requiring a website makeover, replacement PC's, seed capital or any other recruitment resources can use the recruitment-in-a-box.com website to make direct contact with providers.
A Total Quality Network
Members cannot just apply to join the network. They have to be invited to join following referral by other members, based on a proven track record of delivery and customer satisfaction.
The network has a good MD to MD level of communication, which from the agency's perspective means that things get done; and to the agreed budget, timescales and quality.
Members include:

Recruitment veteran Paul Jacobs (33 years in recruitment to director-level of some of the UK's most prestigious agencies)
Robin McClaren, MD of FWCS Group (provider of managed IT services for a growing recruitment agency)
Dave Bancroft, MD of Reverse Delta (provider of recruitment-specific websites)
Dean Gollings (veteran trainer and author)
Phillip Venn of Liquid Friday (outsourced HR & payroll services, and ex-director level of 3 mainstream banks)
For more details visit: recruitment-in-a-box.com
About Mike Charter
Mike Charter is CEO of Darwin Corporation, a leading recruitment management software company. More details at: http://www.darwin.com
# # #