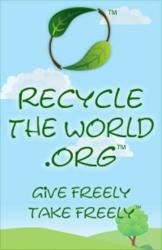 Mazzini said he instantly thought of the internet medium as a means to give his unused items away, and he designed a site where members can log in and 'Give Freely, Take Freely', according to the webpage's mantra.
Katy, Texas (PRWEB) February 21, 2013
The only thing last year's Keds and quirky Ikea furniture have in common is they're the first to go during spring cleaning and un-cluttering. Hundreds of thousands of homes discard this 'trash', which is destined to seep and stack into landfills across the globe. Charles Mazzini, founder of Hyperlinks Media, LLC, a website development company, viewed this as a call to action to create an online recycling community.
"It started when I was sick of looking at this wet saw in my garage," Mazzini said, and when it came to his assortment of other dusty items he said, "I didn't want to have a garage sale, but thought, 'A lot of people could use this stuff!'".
Unlike Craigslist, where there's a 'free' category listed among more than 100 of others, Mazzini's company designed a site that's not only kid-friendly, sorry Craigslist, but one that's entirely dedicated to posting giveaway goods. Along with taking the items listed, users can also post wanted items under a separate tab. Mazzini views this as a network that facilitates basic needs such as baby clothes for single mothers as well as decreasing our carbon footprints worldwide.
In fact, two months ago, Recycle the World expanded their site and network of giving globally.
"We're now getting submissions from Germany, France and other countries," he said.
In order to further capitalize their mission, the website also lets all recycling centers submit their location, website and contact information to the online directory, for free of course.
Along with listing the closest community center, RTW also enumerates how to get involved with the organization. Users are encouraged to spread the message via all social media channels, by encouraging garage sale hosts to post left over items on the site, and the logo's code is also available to upload to a local business's or city's site.
In the future, Hyperlinks Media will create a custom search for members to narrow down to their location and focus only on their needed items. When an item is posted that fits the criteria, an automated alert will be sent to their email.
"Although we do want to add more user experience to the site, one thing will never change," said Mazzini. "It will always be free."
Recycle the World has also been featured on the national show 'Deals', hosted by Kat Cosley on the Live Well Network. Watch Video.
Recycle the World was donated by Hyperlinks Media, LLC, which was formed in 1998 by Charles Mazzini. The business covers the board when it comes to web exposure via all things media. Whether it's multimedia, website design and development, editorial or marketing, Hyperlinks' seven-member team works with clients to ultimately increase business traffic as well as their bottom lines. For more information, call 281-693-5372 or visit their site at http://www.hyperlinksmedia.com.
Charles Mazzini, owner
Hyperlinks Media, LLC
281-693-5372
http://www.hyperlinksmedia.com