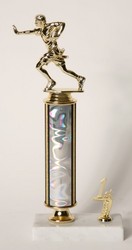 Previously we've had phone calls asking what could be done with old trophies and plaques. After enough of these phone calls, we decided to provide a free recycling and donation program. All it costs is postage
Baltimore, MD (PRWEB) July 8, 2009
Lamb Awards & Engraving, owned by Eva and Steven Lamb for over thirty-five years, knows everything about building trophies. Lamb Awards builds custom trophies for sports teams, corporations, and government organizations. However, their responsibility for the creation of trophies never translated into an interest in their demise until recently.
Lamb Awards & Engraving has been steadily increasing its efforts to reach out to the community. Lamb Awards' website was overhauled recently to display new products. One of the most popular sections on the new website is their page on trophies.
"Previously we've had phone calls asking what could be done with old trophies and plaques. After enough of these phone calls, we decided to provide a free recycling and donation program. All it costs is postage," said Jared Lamb, the pioneer of the recycling program at Lamb Awards.
The recycling program launched July 6, 2009 after several days of planning and preparation. Lamb Awards expects to receive dozens of trophies in need of recycling. The company is even considering a discount for each trophy recycled, depending upon demand. The recycling program is located online at the company's Recycle a Trophy page.
When possible, recycled trophies are stripped for parts. These parts are then reused when Lamb Awards is creating trophies for the next generation of winners. If a matching set of trophies can be combined, sets of old trophies are donated to charities in need.
"Trophies are a major draw to team sports. Everyone needs to work together as a team to help the environment and give to charities," said Jon Lamb, Vice-President at Lamb Awards.
About Lamb Awards:
Lamb Awards & Engraving was founded in 1973 to provide customers with trophies, plaques, medals, and other recognition awards. Lamb Awards recently overhauled its website, Trophies by Lamb Awards, with new images and pages describing their expansive catalog of products.
###