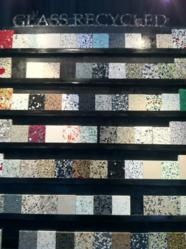 Many designers shared their excitement regarding the opportunity to do something for the environment and push the envelope of custom design at the same time
Chicago, IL (PRWEB) May 15, 2012
GLASS RECYCLED wows and stuns designers with flexibility, color and sizing of recycled glass countertops and flooring at the 2012 KBIZ Kitchen and Bath Show in Chicago, IL. Designers crowded the exhibition booth to explore and imagine the possibilities of creating custom designed kitchen countertops with recycled glass. "We generated a very significant amount of interest. Many designers shared their excitement regarding the opportunity to do something for the environment and push the envelope of custom design at the same time," says Tim Whaley, founder of GLASS RECYCLED, "KBIZ allowed us to showcase how we can enable creativity and customization in way that no one else offers."
KBIZ is an annual, interactive showcase of everything new in the kitchen and bath industry.
GLASS RECYCLED manufactures upcycled glass products including recycled glass countertops, recycled glass terrazzo flooring and other recycled glass products for designers. GLASS RECYCLED focuses on sustainable building materials as Mr. Whaley says, "Sustainability is very important to us at GLASS RECYCLED. Our terrazzo is easy to maintain and lasts as long as your building or home stands. Unlike marble, which has to be removed from the earth, our recycled glass is made from some of the 30 billion bottles that would otherwise end up in landfills."
For more information about GLASS RECYCLED visit their website at glassrecycled.com