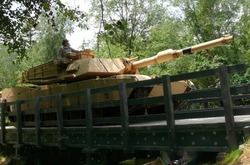 "This was a real feat to pull all the partners together and respond in the short time span and an incredible testament to team building. We could not do this without great partner firms."
Great Falls, VA (PRWEB) December 9, 2009
Innovative Green Solutions, LLC, a woman-owned small business, understands our nation's need to create sustainable green solutions in our construction, transportation and facilities management projects, announced today a contract award to build the first two railroad bridges in history comprised of nearly 100 percent recycled materials.
Innovative Green Solutions identified the opportunity at Fort Eustis just six weeks before the federal year-end during conversations with the garrison commander and with the chief engineer for Fort Eustis. It was in these conversations that Fort Eustis first learned of the possibility of a railroad bridge made of Thermoplastic Timbers made of nearly 100 percent recycled materials. Centennial Contractors Enterprises, Inc., the IDIQ holder and the prime contractor on this project, put out a Request For Quote that Innovative Green Solutions received. Innovative Green Solutions brought the opportunity to Axion International Holdings, Inc., the manufacturer of recycled thermoplastic materials, and to Parsons Brinckerhoff, one of the top bridge design firms in the country. This team competed against traditional cement and steel designs and was not only the lowest bidder, but provided a lower total cost of ownership and an environmentally superior solution.
Phil Reed, the chief engineer for Fort Eustis, stated this is the next logical step after the milestone recycled thermoplastic bridges at Fort Bragg, N.C., and was excited that Fort Eustis has the opportunity to continue the Army's mission to deliver long-term sustainable solutions.
"This was a real feat to pull all the partners together and respond in the short time span and an incredible testament to team building," said Reed."We could not do this without great partner firms".
Vijay Chandra, PhD, SVP of Structures for Parsons Brinckerhoff, and John Kim, PhD, PE one of Parson's top railroad bridge designers, were also pleased at the opportunity to design the world's first composite plastic railroad bridge and to work with "… one of the most exciting new structural materials."
The bridges will be 40 feet and 80 feet long with a load capacity of 130 tons and a Cooper E-60 rating. The bridge structures including the pilings, girders, substructure and railroad crossties will be made from 100 percent recycled post consumer and industrial plastics. The thermoplastic material will not rot, rust or corrode and is impervious to insects. More importantly, it is inert and will not leach harmful chemicals into the environment. This is particularly important to Fort Eustis as the railroad bridges are in locations dedicated as wetlands.
The Office of the Secretary of Defense Office Corrosion Policy and Oversight recently sponsored a technology innovation demonstration at Fort Bragg proving the technology for HS 25 rated bridges to support M1Abrams Tanks. These structural grade composites are the result of decades of research and development from Rutgers University's Center for Advanced Materials via Immiscible Polymer Processing. Rutgers University in partnership with government and industry was the first to design and patent composite railroad ties in 1994. These ties are designed to last the lifecycle of the rail furthering the return on investment for Fort Eustis. Traditional creosote coated ties have a much shorter lifecycle and have to be disposed of in superfund sites due to their toxicity, all leading to increased maintenance costs. Not only are these bridges cost effective on the initial cost, but also an independent study done by the Department of Defense estimated a 34 to 1 return on investment using thermoplastic materials for bridges over the traditional wooden bridges being replaced.
About Innovative Green Solutions
Innovative Green Solutions (igsfederal.com) provides leading edge products to some of today's most serious problems. Our products save lives, create American jobs, help maintain and build our nation's infrastructure and reduce costs while preserving vital natural resources. Innovative Green Solutions is positioned to "Preserve Tomorrow with Today's Solutions". Innovative Greens Solutions is the Preferred Distributor of Axion products to the Public Sector.
About Parsons Brinckerhoff
Parsons Brinckerhoff (PB) is a leader in developing and operating infrastructure around the world, with 13,000 employees dedicated to meeting the needs of clients and communities in the Americas, Europe, Africa, the Middle East, Asia and Australia-Pacific regions. PB offers skills and resources in strategic consulting, planning, engineering, program/construction management, and operations for all modes of infrastructure, including transportation, power, community development, water and the environment. For more information please visit: pbworld.com
Centennial Contractors Enterprises, Inc.
For more than 20 years, Centennial Contractors Enterprises, Inc. has been a leader in construction services supporting government, educational and business facilities and infrastructures, with construction projects focused on renovation, rehabilitation and repair. To date, Centennial has supported over $2billion in project solutions for its diverse customer base. Headquartered in Northern Virginia, the firm has over 45 offices nationwide. For more information please visit: cce-inc.com
About Axion International
Axion International (axionintl.com) is positioned as an important structural product provider of alternative infrastructure and building products. Axion operates from a "green" base, developing structural products made from recycled consumer and industrial plastics that would otherwise be discarded into landfills. Axion International's patented technologies, developed in collaboration with scientists at Rutgers University, allow for products that are extremely strong, durable, flexible in use, and low maintenance. Traditional construction suppliers of wood, steel, and concrete cannot compete with the flexible design features of structural plastic. Manufactured from consumer and industrial waste plastics, Axion's upcycled products are an economic alternative to traditional building materials.
Contact
Lisa Miles Jackson
President, Innovative Green Solutions
703-421-7125
###