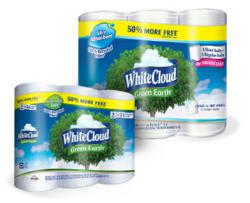 Dallas, Texas (PRWEB) April 26, 2011
White Cloud and parent company Kruger Products L.P. have renewed their commitment to sustainability. Kruger's history of environmental stewardship dates back to the 1940s with its first reforestation project. Through the years, Kruger has taken a leadership role in water treatment, recycling and producing high quality, environmentally friendly products made from 100% recycled materials.
Kruger previously announced their five-year strategic initiative aimed at reducing its environmental impact in its products and operations, Sustainability 2015, that targets several areas of improvement, including:

Energy consumption and greenhouse gas emissions reductions of 15% while implementing alternative sources of renewable energy
Water consumption reductions of 15%
Solid waste to landfill reductions of 20%
Greenhouse gas emissions from transport reductions of 15%
Packaging material reductions of 5% while incorporating use of recycled and biodegradable alternatives
Use of only 100% certified fibers
Kruger reached a milestone just last month when they received Forest Stewardship Council® (FSC) Chain of Custody (CoC) certification from the Rainforest Alliance's SmartWood program, making them the first Canadian tissue company to achieve this standard, considered the most rigorous social and environmental standard in the forestry industry.
Kruger Products' use of recycled paper in its products saves more than 1.6 million trees annually, and reducing the thickness on the poly inner wraps on individual rolls of toilet paper has netted a 47% reduction in packaging material. Corporately, Kruger is one of North America's leading recyclers, recycling 700,000 tons of paper and paperboard annually—the equivalent of saving nearly 12 million trees while diverting 137,000 garbage trucks from landfill sites.
To coincide with Earth Day, White Cloud has released bonus packs of their GreenEarth™ paper towels and bath tissue. Consumers will receive three extra rolls of GreenEarth bath tissue and an extra roll of GreenEarth paper towels free in the bonus packs, available for a limited time only at Walmart.
The GreenEarth product line is made from 100% recycled fiber sourced from everyday recyclables like office paper. The environmentally friendly paper towels are ultra-absorbent and the toilet paper is surprisingly soft. In addition to being earth-friendly, they are also priced lower than many other national brands so consumers can help save the earth and save money without ever sacrificing quality.
To find out more about White Cloud:
Visit http://www.MyWhiteCloud.com/
Follow @WhiteCloudMom on Twitter
Like White Cloud on Facebook
###