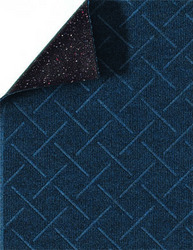 Sometimes green means less attractive--not so with Enviro Plus in two attractive patterns and eight designer colors
Cleveland, OH (PRWEB) September 18, 2009
Martinson-Nicholls, Inc. and the Andersen Company have announced their new Enviro PLUS. These attractive entrance mats feature carpet made with 100% post consumer recycled PET Polyester fiber reclaimed from plastic bottles, and rubber backing from recycled tires.
"Sometimes green means less attractive--not so with Enviro Plus in two attractive patterns and eight designer colors," states Martinson-Nicholls president, Dan Ruminski.
Enviro Plus wipes off moisture and finer dirt particles while providing protection to floor surfaces. It may be used as a wiper mat in a three-mat entrance system, or for spill control and floor protection mat at water fountains, break areas, food counters, hallways and other interior applications. The recycled carpet face is anti-static and UV resistant.
Enviro Plus floor mats come in standard sizes from 2' x 3' to 4' x 20' with special sizes up to 60 foot lengths. They feature an anti-slip backing that helps keep the floor mat in place even over most carpets.
About Martinson-Nicholls
Martinson-Nicholls, has established itself as a leader in custom anti-slip tape, heated floor mats, and eco-friendly floor matting for more than 25 years.
Martinson-Nicholls provides the customer with the exact size matting needed--small, large, standard, nonstandard, special shapes and logos. Custom installations are also a specialty of the company.
The company is sponsoring a new blog on Cleveland Industrial History, with entertaining and informative stories on Cleveland's key role in industrial history, and the White Motor Company family.
Anti-slip safety tapes and treads are available in various sizes and textures from hand cut or die cut pieces to full rolls and special shapes. For more information, please visit http://www.floormat.com.
###