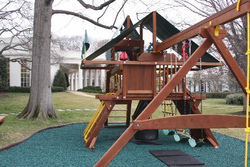 Like many first families, the Obama's have added their personal touch to the White House. From the vegetable garden to the new playground, they have been very conscientious and involved in these decisions. They chose Rubberecycle's Rubber Mulch and Rubber Curbs for their new playground both for safety and for its 'Green' attributes
Lakewood, NJ (PRWEB) March 25, 2009
When the white house recently had a playground installed, they chose recycled Playsafer Rubber Mulch and Rubber Curbs from Rubberecycle.com of Lakewood New Jersey in lieu of the many other options.
"Like many first families, the Obama's have added their personal touch to the White House. From the vegetable garden to the new playground, they have been very conscientious and involved in these decisions. They chose Rubberecycle's Rubber Mulch and Rubber Curbs for their new playground both for safety and for its 'Green' attributes," said Keith Sacks, Rubberecycle's Vice President.
He adds, "We were told Sasha and Malia love their new playground, and we're honored to be a part of keeping them and millions of other children safe, while promoting a renewable resource."
Barbara Tulipane, and Rich Dolesh of The National Recreation and Park Association, in conjunction with Tom Norquist of Game Time contacted the White House to emphasize playground safety who then contacted Rubberecycle.
"Playsafer Rubber Mulch absorbs more shock impact than any other playground surface material. This is particularly important because more than 550,000 kids end up in the emergency room every year with serious playground injuries. Playsafer Rubber Mulch prevents broken bones and other problems that you get with other safety surfaces," said Sacks.
The playground surface is the safest product on the market today. This playground surface was made from 1,400 used tires which make it environmentally friendly. It's a popular safety surface for schools, municipalities, and daycare centers.
To see pictures of the White House playground with the Playsafer Rubber Mulch, go to http://www.flickr.com/photos/rubbermulch.
About Rubberecycle:
Rubberecycle introduced top quality rubber surfacing products to the commercial, residential and military markets in 1998. Their playground mulch conforms to all CPSC, ASTM, and IPEMA (The International Play Equipment Manufacturers Association) safety guidelines and is ADA approved. The pioneer in the tire recycling industry, Rubberecycle utilizes the most advanced technology and equipment to recycle tires on site. The resulting playground surfacing is low maintenance, safe for children and comes with a lifetime warranty and is a fantastic "Green Solution" for the safety of our children.
###