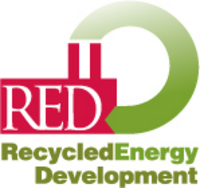 Over time, dirty polluters would disappear while the clean energy producers prosper.
Chicago, IL (Vocus) October 9, 2009
Recycled Energy Development (RED), a clean energy company that cuts manufacturers' energy costs and greenhouse gas emissions simultaneously, today released an educational video proposing policies to encourage more efficient generation of power. The video, which focuses on energy recycling techniques such as waste heat recovery and cogeneration, comes as the Senate prepares to consider climate change legislation that includes groundbreaking carbon constraints.
This latest in a series of educational videos from RED discusses current regulatory barriers to energy recycling, which improves fossil fuel efficiency and slashes energy costs. Energy recycling is a proven approach that was used in Thomas Edison's early power plants beginning in the late 1800s.
Despite the economic and environmental benefits, current regulations "discourage and prevent these projects from becoming reality," said RED Chairman Tom Casten. "Clean power producers face a host of barriers that stifle innovation in the energy industry. We could dramatically improve cost and fuel efficiency while producing clean, carbon-free power."
RED videos can be seen at http://www.recycled-energy.com.
The new video, entitled "Barriers," details the practical consequences of previous environmental regulations, including the Clean Air Act, which failed to limit greenhouse gas emissions. While well-meaning, current law often prevents efficient, independent power producers from connecting to the grid, which makes it difficult to sell their power.
"Policy changes, like an output-based pollution credit system or a clean energy standard offer program, would reward entrepreneurs and businesses that produce clean power," said Sean Casten, RED president and CEO. "Over time, dirty polluters would disappear while the clean energy producers prosper."
Two-thirds of American greenhouse gas emissions are generated by the production of heat and power. Studies done for the U.S. Department of Energy and U.S. Environmental Protection Agency found waste energy recycling could generate nearly 40 percent of our nation's electricity and reduce greenhouse gas emissions by 20 percent. That's as much as if every passenger vehicle were removed from the road.
Backed by a $1.5 billion private equity partnership with Denham Capital Management LP, RED works with manufacturers to capture waste energy, primarily in the form of heat, from industrial processes. RED then recycles the waste heat into clean electricity and steam that is used by the manufacturer or sold to others. This process lowers the cost of manufacturing, helping businesses compete in the global marketplace.
About Recycled Energy Development, LLC
Recycled Energy Development (http://www.recycled-energy.com) develops, owns and operates power projects that harness waste energy and dramatically reduce manufacturers' greenhouse gas emissions and power costs. With more than 30 years experience undertaking environmentally responsible energy development projects, RED's team works closely with industrial companies to optimize energy efficiency and maximize profits.
CONTACT: Heather Shadur
(312) 226-5100 or heather@shadur.com
###