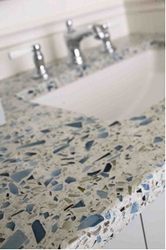 We are excited to partner with SEN Design Group dealers across the United States and expand our message of high design and sustainability
Richmond, CA (Vocus) August 21, 2009
Vetrazzo, LLC, makers of the original environmentally friendly Recycled Glass Surface, Vetrazzo®, announces agreement to sell its material through SEN Design Group, a national organization of the country's finest kitchen and bath professionals dedicated to providing the best value in service and products to their customers. The SEN Design Group represents 220 dealer members across the U.S. Vetrazzo represents the first sustainable surfacing product offered by SEN.
Vetrazzo produces beautiful countertops with the highest recycled glass content of all recycled glass surfaces currently on the market. The company's patent-pending formula transforms recycled beer and wine bottles, broken window glass, automotive glass, and even decommissioned traffic lights into gorgeous and durable surface materials. Vetrazzo will provide SEN member dealers a durable, easy-care countertop for their discerning customers, that doesn't compromise style and beauty in order to respect the earth.
"We are excited to partner with SEN Design Group dealers across the United States and expand our message of high design and sustainability," states Bob Paradiso, Vice President of Sales for Vetrazzo. ''SEN Dealers are the Best of the Best. Their member education on best business practices, their extensive product training and their outstanding commitment to customer service have ensured their premiere position among kitchen and bath dealers even in these challenging economic times.''
''Vetrazzo is the market leader in recycled glass surfaces and green manufacturing,'' says Robert Hatfield, VP of Vendor Sales for SEN Design Group. ''We wanted to offer Vetrazzo because of its distinctive beauty, wide design selection, high quality and the growing demand from our customers for countertops that are also sustainably manufactured and green.''
The SEN Design Group is a national organization of independent Kitchen and Bath Professionals dedicated to providing the best investment value to their clients both in products and services. SEN Design Group firms are dedicated to serving the consumer. They provide an atmosphere that empowers clients to make the most intelligent choices for their projects. More information at http://www.sendesign.com .
Vetrazzo, LLC transforms recycled glass into artful surfaces for home and commercial applications including countertops, tabletops and vanities. Glass sources include bottles from curbside recycling programs as well as waste from glass manufacturers and building demolition. Vetrazzo® is the original Recycled Glass Surface. Invented and first produced in 1996, Vetrazzo enables customers to showcase their individual sense of style and respect for the environment. Vetrazzo surfaces use only 100% recycled glass, in a patent-pending, resin-free formulation, and are fabricated using standard stone equipment. Vetrazzo, LLC, a certified green business and B Corporation™, manufactures in the United States in Richmond, California. Vetrazzo is available in North America through a network of authorized kitchen and bath dealers. For more information, visit http://www.vetrazzo.com.
###